500 Episodes and Counting
Ira Glass on what makes a perfect This American Life episode.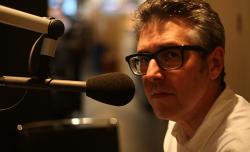 In many ways, This American Life is the same as it ever was—a weekly radio documentary program populated by distinctive, often quirky characters who have great stories to tell. But Ira Glass says the show has evolved since its launch in 1995. The TAL creator and host points out that in the years since 9/11, the program has ridden the news far more regularly, with producers pursuing enterprise and investigative reporting that would have been unheard of in the show's early days.
With TAL's 500th episode approaching, Glass sat down with Slate's Jacob Weisberg to talk about what makes the show go and where it's headed from here.
You can watch Part 1 of our Glass interview, in which he discusses the art of the interview. And in the days ahead, look out for more excerpts, including one on how podcasting is helping to reinvent his radio program.