Obama Doesn't Fight Like Bush
A former State Department official on how the president has kept a step ahead on counterterrorism.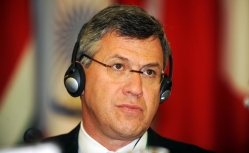 Whatever the long-term fallout from recent disclosures about the NSA's data mining, the leaks from whistleblower Edward Snowden are, if nothing else, a stark reminder that the war on terrorism is still being waged aggressively on multiple fronts. They also offer more fodder for critics who say the Obama administration's counterterrorism policies, including the ongoing use of drone strikes and the continued operation of the Guantanamo Bay prison, are merely a continuation of the overreach and missteps made by President Bush.
Daniel Benjamin begs to differ. He was the point person on counterterrorism at the State Department under Hillary Clinton from 2009 until the end of 2012 and he sat down recently for an interview with Slate's Jacob Weisberg. Benjamin concedes that Guantanamo is "a huge problem," but he says the Obama administration's comprehensive approach has not only undone much of the blowback damage caused by the war in Iraq but also dramatically degraded the threat from al-Qaeda. And Benjamin says there's a lot more to the story than you see in movies like Zero Dark Thirty.