Fatwa Flashback
Salman Rushdie's new memoir arrives amid Muslim outrage over an insulting video.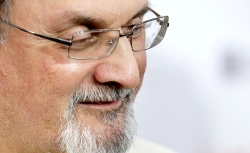 The timing of Salman Rushdie's memoir is almost uncanny. Joseph Anton: A Memoir lands amid the ongoing Islamic furor over a video trailer that insults the Prophet Mohammed, calling to mind the fatwa placed on Rushdie by Iran's Ayatollah Khomeini in 1989 following publication of The Satanic Verses.
Rushdie's memoir delves deeply into his experience of living for nine years under a death sentence and the havoc that wrought on his family and his personal freedom. The title derives from the literary alias Rushdie adopted at the behest of the British police who were looking out for him during the fatwa period. "Joseph" comes from Joseph Conrad and "Anton" from Anton Chekhov.
Rushdie sat down recently with Slate's Jacob Weisberg to talk about his new book and why he chose to write a memoir in the third person.
In part two of the interview, Rushdie reflects on how the fatwa changed him and shares an amusing encounter with former British Prime Minister Margaret Thatcher. And in the third segment, he answers Slate reader questions, including his take on the 2012 election and how he came to be a nonbeliever.