Attention to (Seemingly Irrelevant) Detail
Author Michael Lewis on the secret of his success.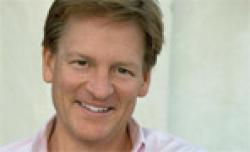 Michael Lewis' books are so full of memorable details and anecdotes that some have wondered if everything in them could possibly be true. Lewis says that as a reporter and writer if you just respect what happened, "you don't need to make things up."
The best-selling author tells Jacob Weisberg that the only thing he gets away with is "taking things that most people think are unimportant and making them important."
In this episode of Conversations With Slate, Lewis also discusses how his writing was shaped by Mark Twain, Tom Wolfe, and George Orwell.
Here's Part 1 of Lewis' interview—the challenges of turning Moneyball into a movie. Part 2 deals with the dysfunctional culture on Wall Street. And in Part 3, Lewis answers Slate readers' questions. Look for an audio podcast of the entire interview in the days ahead.