The Case Against Porno Chic
Simon Doonan's Beef with 6-Inch Stilettos and Spray Tans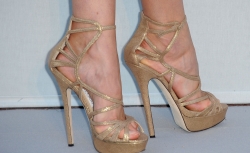 Style and fashion guru Simon Doonan has been railing against what he calls "porno chic" for some time. And it's not because he's a prude. The author of Gay Men Don't Get Fat tells Slate's Jacob Weisberg why he has no patience for 6-inch heels, bleach blondes and spray tans.
Watch the latest installment of Conversations with Slate to hear Doonan's rationale.
TODAY IN SLATE
Sports Nut
Grandmaster Clash
One of the most amazing feats in chess history just happened, and no one noticed.
The Extraordinary Amicus Brief That Attempts to Explain the Wu-Tang Clan to the Supreme Court Justices