The Case Against Porno Chic
Simon Doonan's Beef with 6-Inch Stilettos and Spray Tans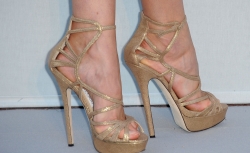 Style and fashion guru Simon Doonan has been railing against what he calls "porno chic" for some time. And it's not because he's a prude. The author of Gay Men Don't Get Fat tells Slate's Jacob Weisberg why he has no patience for 6-inch heels, bleach blondes and spray tans.
Watch the latest installment of Conversations with Slate to hear Doonan's rationale.
TODAY IN SLATE
Politics
Talking White
Black people's disdain for "proper English" and academic achievement is a myth.
Operation Backbone
How White Boy Rick, a legendary Detroit cocaine dealer, helped the FBI uncover brazen police corruption.