Why Liberals Are More Coherent Than Conservatives
MSNBC's Rachel Maddow pines away for rigorous political debate in Conversations With Slate.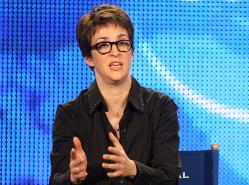 Rachel Maddow loves a good argument. As long as it's over substance, something she says is in short supply as the 2012 presidential campaign kicks into gear.
Here's part 2 of the interview:
Here's part 3 of the interview:
Advertisement

Here's part 4 of the interview:
Look for an audio podcast of the entire conversation in the coming days.





















TODAY IN SLATE
The Slatest
Ben Bradlee Dead at 93
The legendary Washington Post editor presided over the paper's Watergate coverage.