Tom Sachs: The Work Is the Reward
Visual artist explains his channeling of James Brown in "Conversations With Slate."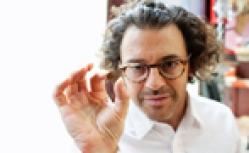 Tom Sachs' latest exhibition of sculptures and paintings is simply called Work. The artist recently took Slate's Jacob Weisberg on a gallery tour and then sat down for a wide-ranging interview about everything from his disappointments with the throwaway objects of modern consumer culture to his obsession with NASA and space exploration.
Here's the first of three segments from Sachs' interview, the latest in our series "Conversations With Slate."
Here's Part 2 of the interview.

Here's third and final excerpt of the interview.
Come back later to download and listen to an audio podcast of the entire conversation.