Jennifer Egan: The Lure of the Shadow Self
Part 2 of the Pulitzer-winner's conversation with Jacob Weisberg.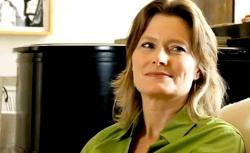 Author Jennifer Egan is intrigued by the notion of pseudo-reality, and that theme permeates her fiction.
In the second part of her interview with Slate's Jacob Weisberg, Egan traces the strands of this fixation, from her early short story collection Emerald City to her later novels The Keep and Look at Me.
Here's part one of Egan's interview, and look for one more excerpt in the days ahead, along with an audio podcast of the entire conversation.