Published by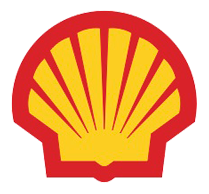 Are You Ready For Some Energy?
A new trend is turning football stadiums into unlikely sources of electricity generation, saving money for teams and protecting the environment in the process.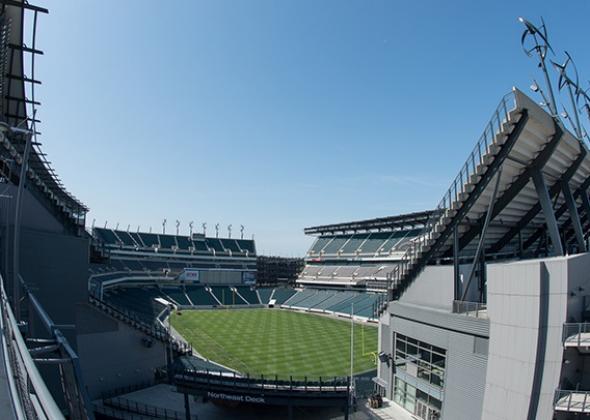 Sportscasters routinely describe the high-octane atmosphere on an NFL football field like Lincoln Field, where the Philadelphia Eagles play, as "electric." Music throbs as fans tailgate in the vast parking lots. Players burst onto the field through clouds of smoke. Tension crackles through the air as 80,000 people get pumped up for the kick-off. Above it all, 14 whirling wind turbines – seven on top of the roof behind each end zone – are literally creating electricity.
Football fans are conversant with the Power-I formation. Now, however, attending a football game means interacting with the power sector. A new trend is turning football stadiums into unlikely sources of electricity generation—and in some rather unlikely places, too.
For decades, energy and football have been intertwined in Houston, where the local professional team was known for 36 years as the Houston Oilers. It's not hard to understand why: oil refineries dot the shores of Galveston bay and oil derricks jut out in the countryside. The Oilers decamped for Tennessee, and were eventually replaced in 2002 by the expansion Houston Texans, who played in Reliant Field—a stadium sponsored by a local energy company.
This year, NRG, a national energy company that is the parent company of Reliant, rebranded Houston's football stadium as NRG Stadium and is turning it into a showcase for the potential of clean energy. NRG is working with the Texans to install hundreds of solar panels in and around the stadium. When fans park in a covered parking lot, the roof above them will be studded with solar panels. As they proceed over a pair of pedestrian bridges, they'll likewise be walking under a silent solar plant. The effort will turn the stadium from a net energy consumer to an energy supplier, which is to say the stadium will generate more electricity over the course of a year than it uses during game days.
This environmental trend goes beyond just Houston. In several other NFL cities, teams are now helping to convert their fans into more conscientious energy consumers, saving money for their organizations and protecting the environment in the process. The New England Patriots, New York Jets, Washington Redskins and Philadelphia Eagles play their home games under lights powered by the sun, and solar panels are being built into Levi's Stadium, the future home of the San Francisco 49ers that is currently under construction.
According to Elizabeth Killinger, president of NRG Retail and Reliant, turning stadiums into generators of energy is a triple bottom-line proposition: it saves money for teams, helps them appeal to changing attitudes of their fan bases, and protects the environment. "Football is a way to reach people and to show them that solar and LED lighting can work for them," she said.
It's hard for fans not to notice. At one of the stadiums where solar panels have been installed, FedEx field in Washington, D.C., a thirty-foot tall statue of a quarterback lined with a thin layer of solar film greets fans as they enter. Fanatics tailgate under eight thousand solar panels planted atop canopies in the stadium's parking lot. When the team plays on Monday nights, fans streaming in will be drawn to a façade illuminated by light emitting diodes (LEDs), which consume about 80 percent less energy than typical bulbs. "We want to be a business that sets an example," said Lon Rosenberg, senior vice president of operations at the Washington NFL franchise. "And harvesting solar power is something that every building and every stadium should be doing."
Aside from the feel-good benefits, the panels generate positive financial outcomes. Electricity is a fixed cost for stadium operators—powering the bright lights and the massive scoreboards require a lot of juice. Instead of pulling energy from the grid, which can be expensive, over the course of a year the panels at stadiums can generate up to two and a half times the amount of energy consumed on game days. On weekdays, or during the off-season when the stadium doesn't draw much power, the electricity it generates is pumped into the grid or used to power neighboring buildings.
Additionally, the environmental benefits are noteworthy. The panels at Gillette Stadium, home of the Patriots, supply 60 percent of the electricity used at Patriot Place, the open-air shopping center adjacent to the field. That cuts carbon emissions by more than 800 metric tons every year, or the equivalent to taking 575 cars off the road.
David Carter, executive director of the University of Southern California's Marshall Sports Business Institute, believes that these investments can pay off in multiple ways that might not be apparent on game day. Professional football teams in 2014 are enormously valuable brands. Aside from burnishing the bottom line by bringing in some extra revenue, these conspicuous forward-looking efforts can help bolster a team's image. The cities and communities in which football teams operate are themselves seeking high-profile and useful ways to reduce their environmental footprint, and being ahead of the curve on this issue allows sports teams to engage positively on other issues. "The team owners have to deal with municipalities and sponsors, and they want to be well valued by fans," Carter said. "It's a smart business decision."
Of course, energy efficiency efforts may not be the biggest predictor of a team's on field success, but the organizations and their fans are starting to realize that it matters how the beer is kept cold and the scoreboards are kept lit.