Published by
Why Women Are Missing out on the Tech Boom
And what some companies are doing about it.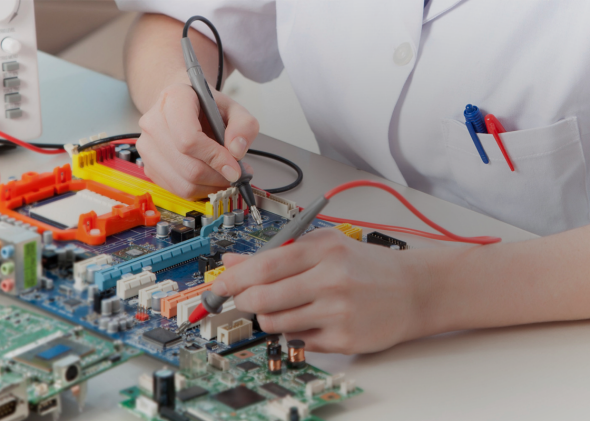 Computer science is a male dominated field. And it seems to be getting worse.
In 1984, women represented 37 percent of computer science graduates. Two decades later the tech sector is booming but instead of catching up, women are being left behind. The number of women computer science graduates has plummeted by two-thirds to 12 percent. And only 26 percent of computing and math jobs were held by women in 2014 even though they represented half of the college-educated workforce in the U.S.
The tech industry says it's a pipeline problem—there just aren't enough qualified female graduates to fill the available positions.
But that doesn't explain why there's a smaller pool of women to begin with. And it doesn't explain why more than half of qualified women who do get jobs in tech end up leaving to do something else.
Not a Girl Thing
Almost three quarters of middle school girls express interest in Science, Technology, Engineering and Math (STEM) but less than one percent chose computer science as a college major according to Girls Who Code, a nonprofit dedicated to closing the tech gender gap.
Somewhere along the way, girls get the message that computer science isn't for them.
In school, teachers may reinforce internalized beliefs about computer science being a "male" profession by failing to encourage girls or allowing male students to dominate the classroom.
The message in popular culture is clear: tech is for boys. It started in the 80s with movies like Revenge of the Nerds and Weird Science and persists in movies like The Social Network and The Internship. Even shows like the Big Bang Theory, which features women in STEM are plagued with problematic stereotypes.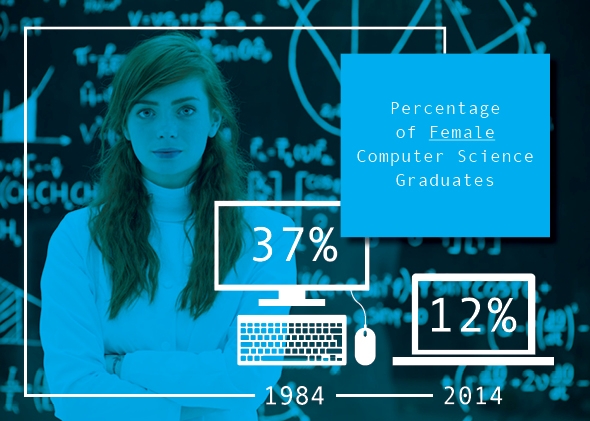 "I really believe that in order to increase the pool of women in STEM fields we have to inspire young girls to be excited about it," said Karen Cahn, a former Google, AOL and YouTube executive who founded VProud, a video-driven conversation platform for women.
Organizations like Girls Who Code and She++ are making a difference by connecting aspiring female computer scientists with women mentors. And some companies are trying to make women in tech more visible through recruiting initiatives like IBM's 26x26 project or Google's Made With Code.
More Than a Pipeline Problem
But inspiring the next generation of technologists is just part of the solution to a problem that goes beyond the pipeline.
Female tech entrepreneurs have to contend with pattern recognition, or assumptions about the type of people who succeed in tech.
"The role of the successful techie is always played by the white guy in the hoodie and that's the image that's burned into everybody's brain," said Cahn. "I don't think it's an intended gender bias on the part of bankers and [venture capital firms] not to support women. I think they're going to go with the…image they have in their brain."
Some venture investors are getting the message. 500 Startups is one example. Half of their managing partners are women and they've backed hundreds of female founders. They were nominated this year for a Women 2.0 award.
Bias also extends to hiring practices. "Culture fit—the tendency for companies to hire people similar to those who already work there—has the effect of excluding women in male-dominated professions. Men just seem more likely to fit in.
The problem is especially pervasive at startups where there's often no formal recruiting process. "When you have a well-established company, they have processes and procedures. They have criteria for hiring people," explained Eileen Trauth, a professor of Information Sciences & Technology and Women's Studies and Penn State University.
But even if women are hired, companies need to do a better job getting them to stay.
Women working at technology companies quit by midcareer at twice the rate of men with 56 percent dropping out before they reach their full potential, according to the National Center for Women & Information Technology. This is known as the "trapdoor problem."
According to recent research from the Center for Talent Innovation, women are leaving because of a lack of career advancement, perceived bias in performance evaluations and feeling isolated in a "super-competitive fraternity of arrogant nerds," as the study's lead author, Sylvia Ann Hewlett put it. The perceived bias wasn't all in their heads. The study also found women were less likely to be viewed as "leadership material" by senior management.
Turning the Corner
The first step to solving the problem is recognizing it.
Google and Facebook both train employees to recognize unconscious bias.
IBM is trying to tackle the trapdoor problem head on by pursuing women who have taken a career break and helping them reenter through its Reconnnected initiative. The program offers continuing education, networking opportunities, and connections to executive coaches to develop a clear technical roadmap for career development.
To better understand how to accelerate the careers of future generations of women leaders, IBM also commissioned a study titled "Your Journey to Executive" and shared its findings inside and outside the company. All of these efforts—from shining a spotlight on female tech pioneers to helping women reenter the workforce and beyond—are paying off. IBM was voted one of the top 10 best companies for women in 2014 by the National Association for Female Executives.
Cahn believes that having more women in leadership at tech companies makes a difference. "When you put a woman in charge of a global tech organization, eventually more women leaders will emerge and the products and services will better serve women and children," she said.
IBM, Facebook, YouTube and Yahoo are among those leading the way with women in key executive leadership positions.
"My sense is that we've turned a corner from this being viewed as a woman's problem to this being an issue for society, Trauth said. "I'm hopeful about change that I see."
To learn more about IBM and the 26 x 26 program, check out the video below: