Roll Tigers
To beat Alabama, Clemson had to become Alabama.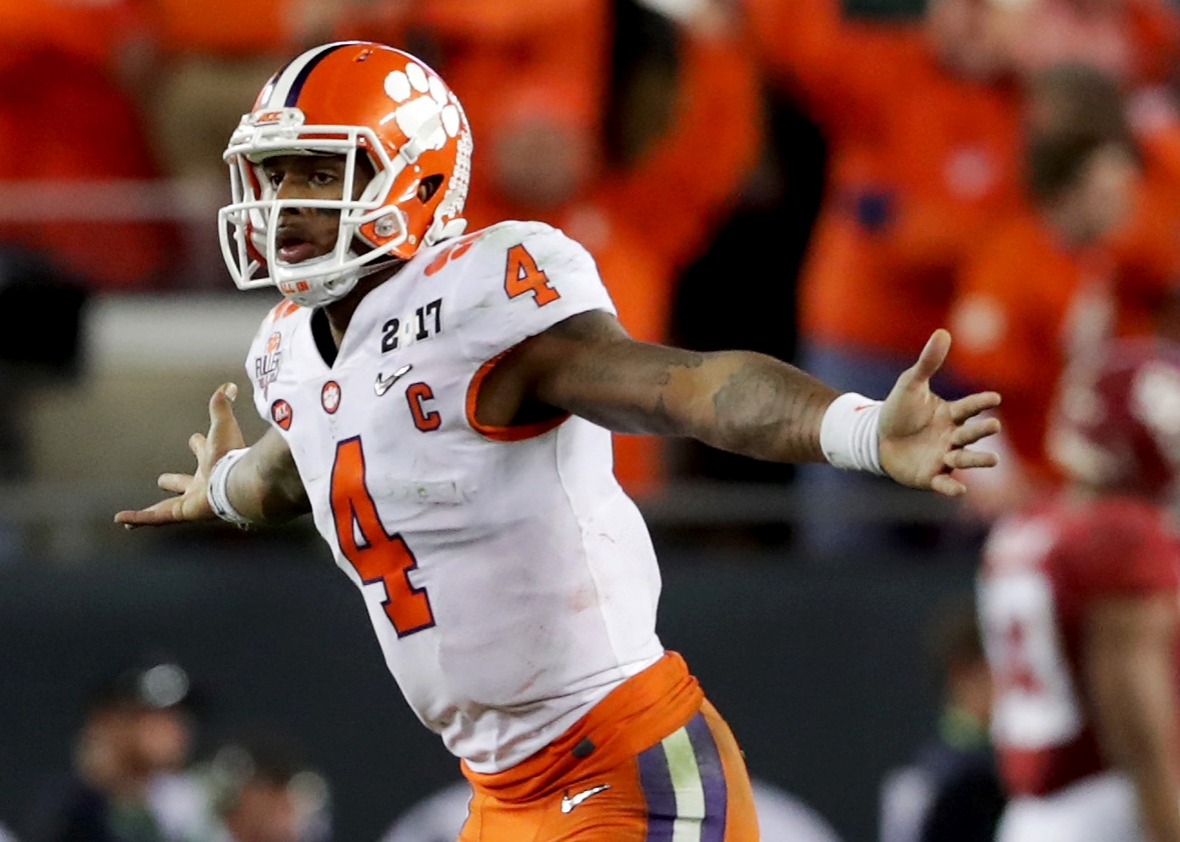 Clemson won the national championship on a pick play. Sorry, a "rub route," one in which Alabama cornerback Marlon Humphrey got picked—er, rubbed—at the goal line, allowing Tigers wide receiver and future New England Patriots draftee Hunter Renfrow to break wide open for the last-second, game-winning score in Clemson's 35–31 victory. This was a scandal! This was interference! This was the exact same play Alabama used to win a tight game against LSU two years ago!
It's not surprising that the two best teams in college football would dabble in red-zone frottage. Every team does whatever it takes to score—at least, every team that's serious about winning a national title. Still, it was fitting that the Tigers won their title-game rematch against what was supposed to be Nick Saban's best team ever by doing Alabama things to Alabama. Clemson's Dabo Swinney, who won a national championship as a player at Alabama in 1992 and coached at the school from 1993 to 2000, molded his team in the image of the Crimson Tide.
Under Saban, Alabama won four titles in seven years thanks to a simple championship formula: Get the best players in the country and put them in position to succeed. The Tide gets more five-star recruits—the best of the best high school players—than most conferences bring in collectively. Alabama has signed 23 five-star players in the past five years. Clemson has signed five. Those high school heroes get faster, stronger, and smarter once they get to campus. Saban's defensive linemen, linebackers, corners, and safeties always seem to know what play is coming. They don't give up touchdowns because they don't make mistakes. And when Saban saw high-tempo, no-huddle offenses shake up the sport, he brought in Lane Kiffin to modernize his team's offense, ensuring that Alabama's superior skill players wouldn't be hamstrung by an outdated system.
Clemson lost last year's title game 45–40 because it screwed up one too many times. In particular, the Tigers seemed to forget that tight end O.J. Howard was an eligible receiver. The Tigers did it again on Monday night, allowing the perpetually-underutilized-except-against-Clemson Howard to break free for a long touchdown pass that gave Alabama a 24–14 lead late in the third quarter.
That was … not good. It was also an outlier, the only glaring mental blunder I can recall either team making all night. This was professional football, played by athletes who are coached by professionals and trained like professionals and essentially are professionals except for the getting-paid-more-than-the-fixed-cost-of-a-college-scholarship part. If the Howard play was an unusual departure, Clemson linebacker Ben Boulware's read of quarterback Jalen Hurts' sweep in the second quarter represents everything the Tigers did right. Boulware knew the play was coming, told his teammates to move over to stop it, and then led a marauding horde into the Alabama backfield, where Hurts got tackled for a 4-yard loss.
This is the kind of thing Alabama does to other teams. The Crimson Tide make you look bad, and they make you feel dumb. But Clemson wasn't outclassed or outsmarted on Monday night. Although the Tigers' talent isn't on par with Alabama's at every roster spot, Clemson's lineup is pretty damn loaded. Wide receiver Mike Williams was the freakiest athlete in Raymond James Stadium, and young defensive linemen Dexter Lawrence and Christian Wilkins led a Clemson front seven that pressured Hurts into his worst passing performance all year. Boulware and the Tigers defense knew what Alabama wanted to do, and Deshaun Watson and the Clemson offense kept the Tide off balance with formation shifts, jet sweeps, and up-tempo play-calling—various gadgetry that forced Alabama's gaggle of five-stars to account for all manner of speedy, orange-legged playmakers: Williams, Renfrow, receiver Deon Cain, running back Wayne Gallman, tight end Jordan Leggett, Watson himself.
It was clear from watching the last two title games that Clemson is SEC-level serious about putting a national title–grade product on the field. And it is clear from looking at this snazzy online presentation that Clemson is beyond SEC-level serious about building a national title–grade football facility. That $55 million building, which is scheduled to open in the next few months, will include an "outdoor village" with a beach volleyball court, a laser tag venue, and an indoor slide, all of which seem like a lot of fun, and all of which also seem like great ways to test whether a player has passed the concussion protocol. In a world where paying quarterbacks and receivers is a bad idea because, per Alabama athletic director Bill Battle, they'll spend that cash on "tattoos and rims," fashioning an indoor slide is the best way for a program to indicate that it's a big player in the business of college athletics. As of 2017, Clemson is a very, very big player. Whee!
All the progress Clemson has made on roster and facility construction since Swinney took over as head coach in 2008 gave the South Carolina school the opportunity to make the national championship game. But it took a player, Deshaun Watson, to win it. In his last game as a collegian, the Clemson quarterback got knocked around on the ground and in the air.
But against the best defense in the country, Watson threw for 420 yards and three touchdowns, and he glided around right end like Vince Young in the 2006 Rose Bowl to set up another score. Alabama's players knew what they needed to do to stop him. They just couldn't do it. Clemson won because the best player on the field wore orange rather than crimson. Is it too late to install a Deshaun Watson statue next to that beach volleyball court?