The Most Horrifying Moments in the Steelers-Bengals Game, Ranked
Brutal hits, fans throwing stuff at an injured quarterback, and an assistant coach yanking a player's hair.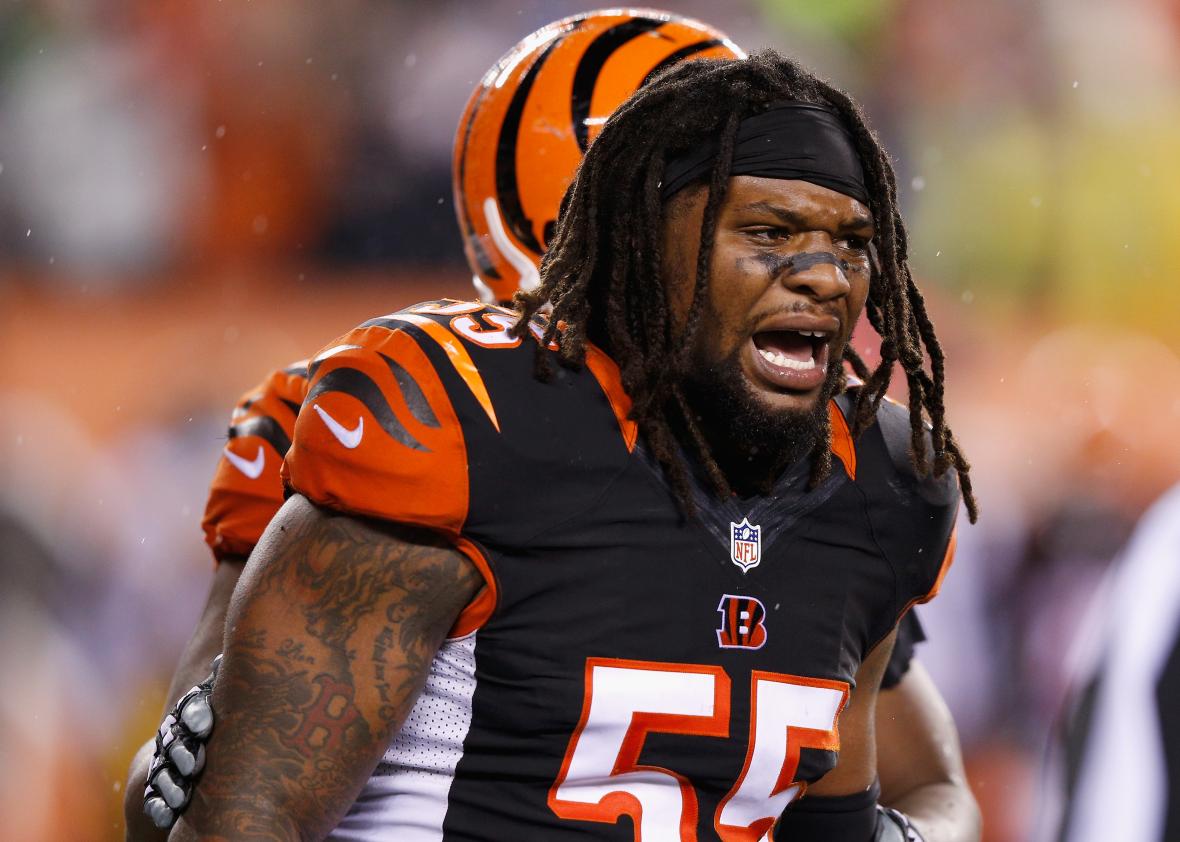 In a letter to fans on Oct. 4, 2013, NFL commissioner Roger Goodell wrote, "We are proud that the game is safer and more exciting today than ever." A year later, Goodell said in an interview that "the game of football has never been safer than it is today." And in March 2015, Goodell told The MMQB's Peter King, "We are changing the game, for the better. The game has never been better or safer."
Now, in a total non sequitur, here are 10 moments from Saturday night's 18-16 Pittsburgh Steelers win over the Cincinnati Bengals, ranked in order from least- to most-horrifying.
(10) Martavis Bryant's touchdown catch.
This brilliant, butt-assisted grab was not at all horrifying, and served as a brief reminder that football can be a beautiful, magical game. That reminder was very, very, VERY brief.
(9) Officials call excessive celebration penalty on touchdown that never happened.
Less horrifying than dumb and mystifying, the Steelers' William Gay was called for a 15-yard penalty after doing a coordinated end-zone dance with his teammate Bud Dupree. It is dumb that NFL rules call it unsportsmanlike conduct when "two or more players engage in prolonged, excessive, premeditated, or choreographed celebrations." It is mystifying that the penalty still stands when officials decide that the touchdown the player is excessively celebrating wasn't really a touchdown.
(8) Adam "Pacman" Jones rants on Instagram.
While he sounds totally unhinged, he's also kind of right about the refs. Jones, who famously set off a strip club shooting by "making it rain," was far from the biggest villain in this particular game. After it was over, he cried on the sideline.
(7) Vontaze Burfict says "I don't know" a lot.
The Bengals linebacker recorded six tackles, one sack (which knocked Ben Roethlisberger out of the game—more on that later), one interception (after which he ran 85 yards into the tunnel to celebrate), and a forced fumble. Great game, Vontaze! He also nearly killed Steelers receiver Antonio Brown (also more on that later), incurring the first of two 15-yard penalties that contributed to the Cincinnati loss. At his locker after the game, Burfict channeled Marshawn Lynch, refusing to explain his actions or answer any questions. He did, though, take a moment to blame Porter for being on the field (more on that later, too).
(6) Ben Roethlisberger gets carted off, hit with flying object.
(5) Jim Nantz mostly unperturbed by near-decapitation.
Late in the third quarter, the Steelers' Ryan Shazier rammed the Bengals' Giovani Bernard in the helmet, contorting the Cincinnati player's head and neck. As Deadspin's Tim Burke notes, CBS's Nantz said, "that had the potential to be a whole lot worse, as far as that breaking into something no one wanted to see." He was referring to a fight that nearly broke out after the hit, not the hit itself.
(4) Roethlisberger returns to game after leaving on a cart.
A moment that's horrifying precisely because it's so unsurprising: a player suffers a brutal injury, then gets the thumbs up to take another pounding. As discussed in No. 6 above, the Steelers quarterback left the game after injuring his shoulder. Roethlisberger clearly could not move his right arm, which is the one he uses to throw the ball. Nevertheless, he came back in the fourth quarter, telling his coaches he couldn't throw deep. After the game, Roethlisberger's teammates praised his toughness, and he said, "We won the game, that's all that matters."
(3) Steelers assistants lose their minds.
Jones and Burfict both had a point about Joey Porter. The former Steelers linebacker and current assistant coach was on the field picking fights with opposing players, and will probably be fined for his role in instigating the conflict with Jones. Porter will gladly pay that fine, we're guessing, because Pittsburgh possibly would have lost if he hadn't baited Jones into a 15-yard penalty.
This is a dual entry, because Porter didn't commit the most horrifying act by a Steelers assistant on Saturday night. For some reason, offensive line coach Mike Munchak yanked Bengals safety Reggie Nelson's dreadlocks. Munchak was penalized, and is a lunatic.
(2) Vontaze Burfict smashes Antonio Brown's skull.
The play that, perversely, led to the Steelers' victory and three of the previous eight items on this list. Brown, Pittsburgh's best player and one of the league's biggest stars, got taken out by a hit that led to Cincinnati getting penalized multiple times and Pittsburgh winning a first-round playoff game.
It's hard to give Burfict the benefit of the doubt. Take a look at this hit from last week's game against the Ravens.
But the play wouldn't be that much less horrifying if it was a total accident. This is one of the most brutal hits of the NFL season.
(1) Ryan Shazier smashes Giovani Bernard's skull.
Reasonable people can differ over whether Burfict's hit on Brown was more violent than Shazier's open-field, helmet-to-helmet takedown of Bengals running back Gio Bernard.
What makes the Shazier hit far more horrifying, though, is that Bernard's concussion was induced within the rules of the game. As Deadspin points out, the Bernard hit demonstrates how—as many rule changes as the league pushes through to make the sport "better" and "safer"—it is impossible to legislate violence out of football. So long as the NFL exists, players are going to get knocked out.