Hurts So Good
The Cavs' NBA Finals run was joyous, hopeful, and heartbreaking.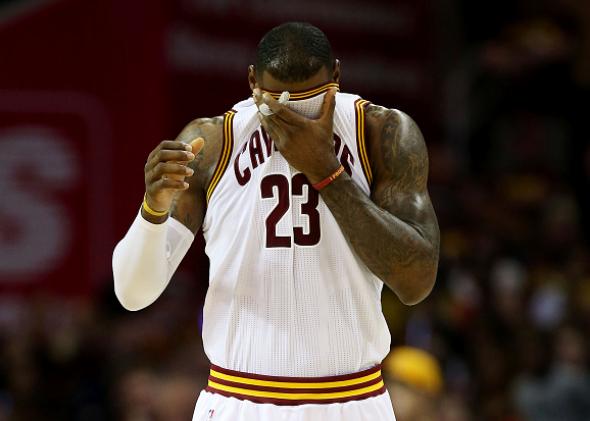 Over the past two weeks, the Cleveland Cavaliers came closer than anyone expected to pulling off the impossible: beating one of the best teams in NBA history in the NBA Finals despite having two All-Stars sidelined by major injuries.
They didn't, falling to the Golden State Warriors in six games after a devastating, yet seemingly preordained 105–97 defeat on Tuesday. But they did accomplish one thing previously thought impossible. The Cavs found an entirely new way to break the hearts of the most beleaguered, most heartbroken sports fans in America. But that's not a complaint. For Cavs fans, these playoffs—and these finals in particular—have been the most joyous, raucous, and hopeful heartbreak a fanbase accustomed to such pain has ever endured.
Don't get me wrong: The anguish is very, very real. Watching Game 6 on Tuesday night, every swish of the net from every made jump shot by Stephen Curry or Andre Iguodala was a punch to the gut. Every one of the Cavs' 16 turnovers felt like getting stabbed in the eye. Watching the Warriors accept the Larry O'Brien trophy on the Cavs' home court … no words. A few tears, but no words.
The travails that have befallen Cleveland for the past 50 years are so well documented that, like Madonna or Pelé, many need only a single name. The Drive. The Fumble. The Shot. Cleveland has been minutes from a trip to the Super Bowl, seconds from beating Michael Jordan in the playoffs, one out from winning the World Series. As the New York Times pointed out earlier this month, our teams lead the nation in sporting futility with 147 seasons—now 148—since any title, the most of anywhere in the country.
Historically, the best Cleveland teams have fallen painfully, just barely short of expectations. But this Cavs team, from the moment that the Boston Celtics' Kelly Olynyk so rudely removed Kevin Love's shoulder from its socket, actually elevated itself with each new challenge.
The Cavs could have folded in the Eastern Conference semifinals, playing without Love and going down 2–1 against the Bulls. But then LeBron did this to end Game 4:
Chicago didn't stand much of a chance after that, and neither did the outmatched Atlanta Hawks in the Eastern Conference Finals. James averaged nearly a triple double against Atlanta, highlighted by his 37-18-13 line in Game 3. Iman Shumpert (16 points in Game 2), Matthew Dellavedova (17 points in Game 3), and J.R. Smith (28 points in Game 1, 18 points in Game 4) took turns playing LeBron's wingman.
They were fun to watch, because it was clear how much fun they were having together. When you watched this Instagram video of the locker room celebration after the Hawks' sweep, it was tempting to think, "Um, hey guys, you have a whole series left." But could you blame them? This was a team that had been 19–20, that had weathered rumors about its rookie coach being fired, that had been retooled with a pair of castoffs from a Knicks team that had gone 5–32 to that point.
Even after that dominating performance, the Cavs were underdogs going into the finals against Golden State, and rightly so. At FiveThirtyEight, Nate Silver ranked the Warriors the third-best team ever, behind only two of Michael Jordan's best Bulls teams.
And then the unthinkable happened. After the Cavs forced overtime in Game 1 at Golden State—where the Warriors had lost only twice in 41 games during the regular season—Kyrie Irving knocked knees with the Warriors' Klay Thompson and left the court hobbling. With what turned out to be a broken kneecap.
Naturally, just as they had against the Bulls, the Cavs stepped up. They won Game 2 in Oakland, California, in overtime, to tie the series. Dellavedova, the undrafted and unheralded Australian point guard starting in place of Irving, held Curry to 19 points. LeBron had another triple double. Life was good. It was even better when Cleveland took Game 3 and claimed the team's first-ever finals home win. Dellavedova became a hero on two continents by shutting down Curry for three quarters, scoring 20 points of his own, and ending up in the Cleveland Clinic overnight to be treated for dehydration.
Then, alas, reality caught up to the Cavs. Smith's shot disappeared. Shumpert hurt his shoulder. Fatigue set in. Oh, and NBA regular season MVP Curry started playing like he had all year.
The Warriors won the trophy. But the Cavs stole the show. And when I say Cavs, I mean LeBron. For all the love toward Dellavedova, for all the low-post heroics from Timofey Mozgov, in the end, these NBA Finals were about LeBron James. LeBron and Cleveland, Cleveland and LeBron. When the Cavs miraculously won the draft lottery way back in 2003 and were able to draft James, it was like a marriage between high school sweethearts. Could you believe the luck, really? How did that happen? We all know how that worked out, and how it took another miracle to set the stage for this season.
Call me a sap—I deserve it, really—but when LeBron was running point and finding his teammates, when he was backing down his defenders in the low post, only to pull back and hit a floater, when he was driving and diving into camera men, it really did feel like he was doing it for Cleveland. Oh sure, he's doing it for himself. Because nothing will mean more for him, his brand, and his legacy than bringing a title to his hometown team. But it sure felt like it was for all of us.
LeBron James left Cleveland because he never had the supporting cast to win an NBA championship. He came back, acknowledging that it might take a while, and then the Cavs moved heaven and earth to surround him with talent to win immediately. Trading for Kevin Love. Finding Mozgov when Anderson Varejao ruined his Achilles. And yet, ironically, LeBron again had to do it on his own. But this time, he relished the challenge. And damn near rose to it. It's impossible not to think about what he could have done with healthy teammates.
Before Game 3 in Cleveland, the arena crew rolled out a banner that covered a good portion of one side of the lower bowl. "There's Always This Year." At that point, it honestly seemed believable. Now, Cleveland fans are back to waiting for next year. But next year has never looked so good.