Alex Gordon's Not-So-Mad Dash
Should the Royals left fielder have tried to run all the way home to tie Game 7 of the World Series?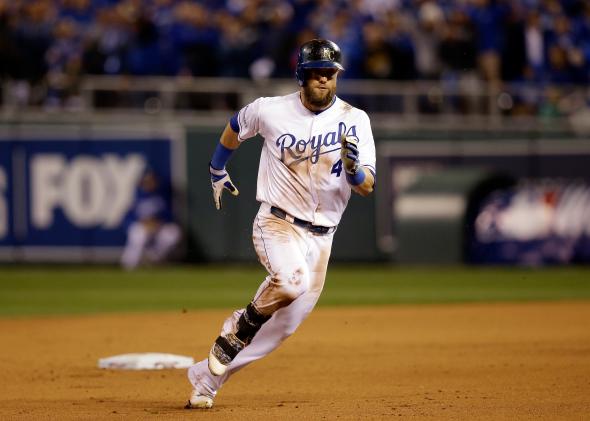 After 29 years without a playoff berth, the Kansas City Royals went on a dream run that took them from the wild-card round to Game 7 of the World Series. And then Madison Bumgarner had to come along and spoil everything. Pitching in relief after throwing 117 pitches in Game 5, the Giants lefty threw another five scoreless innings to deliver the San Francisco Giants a 3–2 victory, clinching their third World Series title in five years. Bumgarner, the series MVP, has now allowed 1 earned run in 36 career World Series innings for an absurd 0.25 ERA.
While the Giants ace was close to unhittable, retiring 14 straight Kansas City hitters at one point, it wasn't easy for Bumgarner to secure the last out. With San Francisco clinging to a one-run lead with two outs in the bottom of the ninth, the Royals' Alex Gordon slapped a sinking liner. Giants center fielder Gregor Blanco misplayed it—badly. The ball skipped past Blanco all the way to the wall, where left fielder Juan Perez tried and failed to pick it up, then recovered and heaved it back toward the infield. After all those mistakes, it seemed like a disappointment when Gordon stopped at third, just 90 feet away from tying the game.
Moments later, catcher Salvador Perez fouled out weakly to third and the second-guessing began: Should Gordon have tried to make it home?
Gordon, though not a burner, is a very good base runner. His savviness on the base paths, in fact, allowed the Royals to tie the game in the second inning after he advanced to third on a fly ball to left field, then scored on a sacrifice fly to center.
With regard to that ninth-inning scamper, though, Deadspin's Tim Burke makes a strong case that Gordon would have been out by a mile at home. That certainly seems true given how long it took him to make it to third base. But it's worth noting that the Royals left fielder wasn't running as hard as he possibly could out of the box.
It's a rule of thumb in baseball that a good runner should make it to first base in about 4.3 seconds. Based on Fox's replays, it appears that Gordon made it to first in 4.5 seconds, then sped up once he saw the ball get past Blanco. It took Gordon around 12.2 seconds to make it to third, though he did slow down once the Royals' third-base coach signaled that he shouldn't run home.
A writer named Larry Granillo started tracking home run trot times in 2010. Since then, the fastest circuit of the bases by a major leaguer was by the Dodgers' Dee Gordon (no relation to Alex), who did it in 13.89 seconds. The 10 next fastest times were all under 14.66 seconds, which Gordon certainly wouldn't have matched if he'd churned his legs toward home. In fairness, even if he was running full out from the instant he made contact, it's unlikely Gordon could've raced home in the neighborhood of 14.5 seconds, though it's impossible to say what World Series adrenaline could've brought out of him.
Back in reality: If Gordon had tried to stretch his hit into four bases, he would have been rounding the bag as the throw hit cutoff man Brandon Crawford in shallow left. That means, basically, that any decent throw cuts him down, ending the World Series. If Crawford's hypothetical toss home is horribly off line, the Royals tie the game and Kansas City goes crazy.
The smart play, then, is probably to hold Gordon at third—put up the stop sign and give Salvador Perez a chance to drive him in. But I wish we could've seen Gordon charging home, Crawford's throw coming in, and Buster Posey waiting at the plate. Now that would be an amazing way to decide the World Series—and I'm sure we would've had an amazing argument about it after Gordon (probably) got thrown out at home.
Update, Oct. 30, 2014, 3:20 p.m.: MLB.com has posted a fantastic bird's-eye video that shows that Gordon never reached top speed on his ninth-inning jaunt around the bases. Andrew Simon reports that Gordon's max speed of 18.7 miles per hour didn't match the top-end velocity of 20.3 miles per hour that he reached when running the bases earlier in the game.