Who Is the American Messi?
Also: Who Is the Irish Messi? The Iranian Messi? The Kiwi Messi?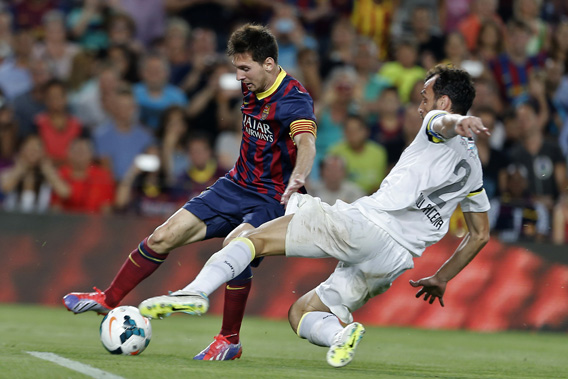 On the Aug. 5 edition of the Hang Up and Listen podcast, Stefan Fatsis explained that America is falling behind the rest of the world in domestic Lionel Messi production. An adapted and corrected transcript of the audio recording is below, and you can listen to the story by clicking on the audio player beneath this paragraph.
Last week, 11-year-old Joshua Pynadath of Los Altos Hills, Calif., became the first American to be invited to join the Spanish soccer titan Real Madrid's fabled youth academy. Josh follows in the cleats of 13-year-old Ben Lederman, who was signed in 2011 and is moving up the ranks at Barcelona's even more fabled academy, La Masia, where the great Lionel Messi famously trained.
Now that's all great, but in a very clear and disturbing reflection of our continued soccer inferiority complex, I couldn't find a single story or post or anything that dubbed either of these kids "the American Messi." We seem fixated on asking why there is no American Messi and how to create an American Messi. Instead, we need to follow the examples of other countries, where they clearly understand that the road to soccer prowess is lined with indigenous Messis.
For instance, when 9-year-old Zak Gilsenan of Castleknock was signed by Barca's academy last year, he was instantly nicknamed the Irish Messi. Easy to do, right? The academy also hosts the Japanese Messi, 12-year-old Takefusa Kubo.
But you don't have to play at La Masia—the Farmhouse—to be a ________ Messi. The Greek Messi is Yiannis Fetfatzidis, though fans just call him Fetfa, I think because it's so easy to say. He's 22, he plays for the top Greek team Olympiakos. He's got nine goals in 72 appearances in four years in the Greek league.
Mediocrity is no barrier to being a Messi. The Georgian Messi, Gio Chanturia, now playing in the Dutch league, has just four goals in 38 appearances. Walid Soliman, the Egyptian Messi, scored 30 goals in 131 games since 2004—he's hardly played for his national team, which isn't very Messi-like. Neither are the 45 goals in 235 club appearances in 11 years for the second Egyptian Messi, Shikabala. Egypt's got a third Messi, Mohamed Salah, who plays in Switzerland. He's got 35 goals in 106 games, so he's showing more Messi-ness.
Who is the Filipino Messi, you might be asking? That would be Kaya FC's teen sensation OJ Porteria, who was born in Virginia, trained by D.C. United, and kicked for his high school football team. But he moved to the Philippines last year. He's already played for the Filipino national team, so America has lost another Messi.
The Kiwi Messi, 21-year-old Marco Rojas, was just signed by Stuttgart, where we can only hope that one day he'll be on the field at the same time battling the German Messi, Mario Götze, now of Bayern. He won't, though, get a chance to face the other German Messi, Marko Marin, who just moved to Chelsea from Bremen.
Of course, we'll be keeping an eye on the Montenegrin Messi, Stevan Jovetić—he was just signed by Manchester City. There could be a Balkan Messi throwdown soon in the Premiership. That's because the Croatian Messi, Alen Halilović, is on the radar of several teams. The Serbian Messi, Veljko Batrović, was supposed to be Prem-bound at 15, but now, at 19, he's playing in the Polish league.
The name of the Swiss Messi, Bayern winger Xherdan Shaqiri, sounds suspiciously Albanian, and that's because it is. He was born to ethnic Albanian parents, he moved to Switzerland as a kid. You can't be two Messis, though, so that's good news for 7-year-old Ilir Sherifi, whom a YouTube video anoints as the Albanian Messi.
YouTube, of course, a popular place to crown young Messis. There are clips of the Cypriot Messi, a kid named Aggelos Andreou. And of the Icelandic Messi, "a girl Kristin #10," according to the caption.
I haven't even gotten to the Moroccan Messi or the Iranian Messi or the Vietnamese Messi, whom I think we should just call the Vietnamessi. But the message here is clear: Let's step it up, American soccer. We need more people like @US_Soccer_Fan1, who recently tweeted to his 200 followers: Is Ben Lederman the American Messi? It's time to stop asking and start proclaiming: Ben Lederman is the American Messi, dammit. And so is young Josh Pynadath. And so are dozens more players like them.