We Are All Someone Else's Fleas
Thoughts on Spain's 10–0 victory over Tahiti.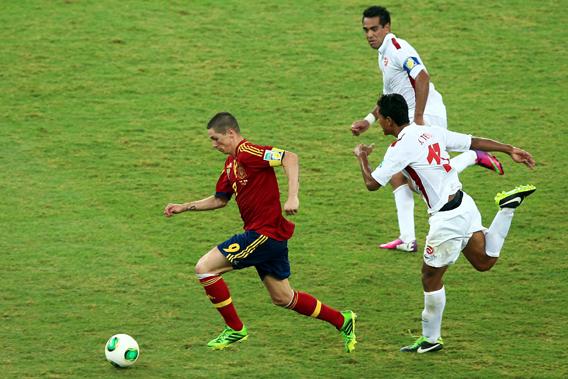 It would have annoyed Jonathan Swift to know that posterity would think of him as an Irish writer, since he considered himself thoroughly English. Born in Ireland to English parents, brought up in Ireland and educated in England, it was his bad luck to be an outsider in both countries: an Irishman in England and an Englishman in Ireland. Forced to settle for a clerical post in Dublin, which he saw as a provincial backwater, Swift had plenty of time to brood on perspective. In 1726, he published the perspective-shifting masterpiece by which he is remembered, Gulliver's Travels.
In brief: Dr. Lemuel Gulliver voyages to the South Seas. He is shipwrecked and washes up on the island of Lilliput, which turns out to be populated by tiny people whose affairs Gulliver regards with amused condescension. Later he again blunders off course and winds up in Brobdingnag, land of the giants, where he is reduced to the status of a performing monkey at the court.
Swift gives the location of Lilliput as somewhere near Van Diemen's Land, which is modern Tasmania. Brobdingnag is in the Pacific, 500 leagues east of Indonesia.
Oceania is characterized by immense watery expanses and stupendous gulfs in footballing ability that could not be much wider if Lilliput and Brobdingnag were actual members. It is the home of the double-digit score line, a land where drubbings are commonplace.
In the rest of the world, such massive margins of victory are extremely rare. Inventing the sport gave England a 50-year head start in international football, but they've still only won by scoring 10 or more goals five times in 141 years. Before Thursday's 10–0 win against Tahiti, Spain had done it twice in 93 years.
Tahiti have done it 14 times. Last year they crushed Samoa 10–1 on their way to winning the Oceania Nations Cup, running in four goals in the last 15 minutes. Half the nations of Oceania have at some point writhed under the Tahitian lash. Guam, 14–0. Micronesia, 17–0. American Samoa, 18–0. The Cook Islands, 30–0.
To put Tahiti's 14 double-digit wins in perspective, the regional superpower, Australia, managed only 10 such results before becoming exasperated with the low standard of competition and applying for a transfer to the Asian Football Confederation.
Among the big beasts of the Confederations Cup, Tahiti are kittens—but back home that kitten is a bloodthirsty monster that toys with its prey before exterminating it. Having beaten up on so many smaller teams themselves, Tahiti knew what fate might await them at the Maracana.
When Gulliver is in Lilliput, he feels a great responsibility not to injure or offend his tiny hosts by throwing his gigantic weight around. Some felt that the Spanish national team were confronted with a similar dilemma.
Spain were the world champions and the greatest international team to play the game. Tahiti had one full-time professional player. Would Spain risk looking ungentlemanly—even ridiculous—if they set about Tahiti with all the strength at their disposal?
The question suggests an unfamiliarity with the peculiar ethics of football. The Spanish internationals mostly play for the two giant clubs that dominate one of the world's most unfair leagues. They know that soccer is a jungle where the strong crush the weak. The "mercy rules" common in American kids' sports are alien to the spirit of the game. Mercy in that context means pity, and pity is contempt in disguise. Teams often ease off on a beaten opponent to conserve their own energies, but there's no law of sportsmanship that says they have a duty to preserve the opponent's honor—that's the opponent's job.
Collectively, Spain's goal was to defend their own prestige, and that meant beating Tahiti by at least as wide a margin as Nigeria had in the last game. Individually, the Spanish attackers knew that here was a chance to pad their international stats. When they count up your goals at the end of your career, nobody will complain that a chunk of them were scored against Tahiti. There was also personal pride at stake—no Spanish forward wants to walk off the field having failed to score against a team of delivery men and PE teachers.
In soccer you don't humiliate an opponent by running up a big score, but by showboating while you are doing it. The classic example in English football is what Leeds United did to Southampton when they beat them 7-0 in 1972. In the closing minutes, Leeds mocked Southampton, taunting them with extravagant flicks and shimmies, the crowd cheering every pass. Johnny Giles, who can be seen here executing a smart rabona, said years later: "It was out of boredom, because the match is over. We were taking the mickey, but we were taking it in a professional way. There's nobody sitting on the ball [for example]." It was cruel, hubristic even, yet four decades on it's probably the most famous match that Leeds side ever played—so it seems that even taking obvious pleasure in an opponent's pain isn't always held against you.
It would, though, have been out of character for Spain to indulge in Leeds-style hubris. They needed a big score, but because they are Spain, it had to be done with a certain decorum. Spain in their imperial phase take that sort of thing quite seriously. There has never been another great football team with such scrupulous manners. In the last minute of the Euro 2012 final, with Spain leading Italy 4-0, Iker Casillas urged the referee to blow the whistle early so that the Italians could be released from their torment. They are much too polite to want to be thought of as bullies.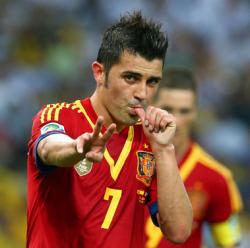 That politeness is part of the uncanny self-possession that some people dislike about Spain. There's never any chaos or confusion, there are no inflamed egos or unexpected freak-outs. They have eliminated the outward signs of human frailty. Spain are football's Deep Blue—serenely plotting 15 moves ahead while the opponent rolls his eyes and claws at his temples.
They showed Tahiti all the respect they were due by treating them like any other opponent. There was no showing off, they just played their normal game. They were cool, composed, and efficient as always, and they scored 10 times largely because they couldn't help it. The first few goals were celebrated with the kind of ostentatious modesty players display when scoring against their former club. A 10–0 score line doesn't suggest restraint, but this was a minimalist massacre.
In so far as it was possible in the absence of an actual contest, Spain gave the crowd their money's worth—not many of them will get to see another 10–0. It's not their fault if FIFA require them to play Tahiti. It could be argued that the game was faintly embarrassing for FIFA: What do they mean by organizing a competition where such an absurd mismatch is possible?
In defense of the world governing body, they take seriously their mission to include the whole world in the game, and the world is still big enough to contain gaps in ability as wide as the one between Tahiti and Spain. If everybody gets to play, you're going to get the occasional 10–0.
If there was a value to Thursday's game, maybe it's that it was the closest we can get in the era of corporatized sport to the kind of experiment George Plimpton performed when he boxed Archie Moore and played quarterback for the Detroit Lions: What happens when a bunch of ordinary guys are pitted against the superhumans?
Sometimes, when we see the Spanish supermen narrowly beat a team of German or Dutch near-supermen in a tense tournament game, there is a tendency to complain that they didn't put on a more spectacular show. Yesterday was a reminder that we should show a little more respect. Because Tahiti are not a bunch of ordinary George Plimpton–type guys. American Samoa are that bunch of guys, and Tahiti are Spain to them.
"So nat'ralists observe, a flea
Hath smaller fleas that on him prey;
And these have smaller fleas to bite 'em.
And so proceeds Ad infinitum."
Tahiti may be several telescopic flea levels below Spain, but the rest of us are fleas on Tahiti's fleas. Thanks to Tahiti for giving the rest of us the perspective to appreciate again how extraordinary the world champions really are.