The Dreaded C-Word
Bryce Harper ran face-first into a wall. Why are the Washington Nationals afraid to say he had a concussion?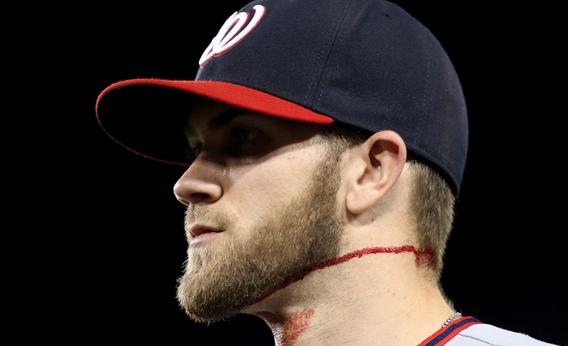 A person's head collides with an object. Unprepared for the impact, the head jerks in a violent whiplash motion. The person collapses, rolling on the ground and holding his head, before rising slowly and unsteadily. Eyewitnesses testify that the person was confused or disoriented.
"By definition, that's a concussion," says Dr. Daniel P. Perl, a professor of pathology at the Uniformed Services University of the Health Sciences in Bethesda, Md., the American military's medical school. "A concussion is a transient loss of neurologic function following a blow to the head. Typically it can be confusion, memory loss or loss of consciousness."
That's what happened to soccer star Abby Wambach last month when she was hit in the face by a speeding ball, and it's what happened Monday when Washington Nationals outfielder Bryce Harper ran face-first at full speed into the outfield wall at Dodger Stadium. "Initially, it was like he was confused," teammate Denard Span said. "I don't think he realized he was on the ground."
Wambach's and Harper's brains rattled inside their skulls and they were out of it. The extent of their injuries would be determined during treatment. But they had concussions. And neither they nor their teams—nor the reporters who cover them and their teams—would say it.
Here's where years of medical studies and media coverage and treatment protocols for head trauma in sports have finally led: a place where saying the word concussion is perceived as worse than the injury itself. Concussion is becoming to sports what it is to Monty Python's Knights Who Say Ni. Just saying the word makes people cover their ears in pain and horror.
The Harper incident is a neat encapsulation of everything dumb and wrong about how concussions are discussed inside sports. The day after his Wile E. Coyote moment, Harper revealed how poorly educated athletes can be about concussions. "I feel a little carsick, I guess you could say, like the feeling of that," the 20-year-old told reporters. "I don't have a concussion or anything like that, which is very pleasant to hear."
Harper apparently didn't understand, or wasn't told, that nausea is a checklist symptom for a concussion. He might as well have said that his arm was broken but that he was relieved that he didn't have a broken arm.
For three days, the Washington Post dutifully recorded and uncritically printed the remarks of Harper; his manager, Davey Johnson; his agent, Scott Boras (who was named along with Nationals officials as the source of the news that Harper didn't have a concussion); and the team's athletic trainer, Lee Kuntz, none of whom are brain trauma specialists. The paper initially erred on which post-injury neurological test had been administered to Harper, and it failed to tell readers that the tests it cited aren't always determinative of whether someone has suffered a concussion. On Wednesday, it reported that Harper "felt nauseous all day Tuesday" but didn't note that nausea is a concussion symptom. The next day it allowed Kuntz, the trainer, to imply that Harper's nausea was just hunger, and to compare it to a cab ride on a Los Angeles freeway.