Where Are the Champions?
An interactive map of every championship in the history of MLB, the NBA, the NHL, and the NFL.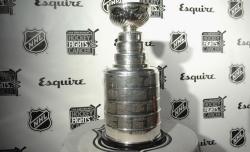 NHL's Stanley Cup
Brad Barket/Getty Images.
Each time a city wins a sports championship, the local fans' hearts swell with pride. With Slate's comprehensive championship map, you can tell exactly how swollen they are.
Press play on the interactive below to watch as North American municipalities accumulate MLB, NBA, NHL, and NFL titles. You can select one of the tabs at the top to focus on one of the four sports, or you can drag the slider at the bottom of the map to zoom straight to a specific year. The trophy icons on the map indicate which cities held the four major titles during the year in question. Finally, to see a comprehensive list of what teams are responsible for each city's titles, click on the place in question.
---




Slate's sports podcast on big vs. small in the NBA playoffs, the Kings staying in Sacramento, and whether the America's Cup is too dangerous to continue.
MYSLATE