Not the Greatest
Joe Frazier was a true gladiator, but he'll always be remembered as Muhammad Ali's foil.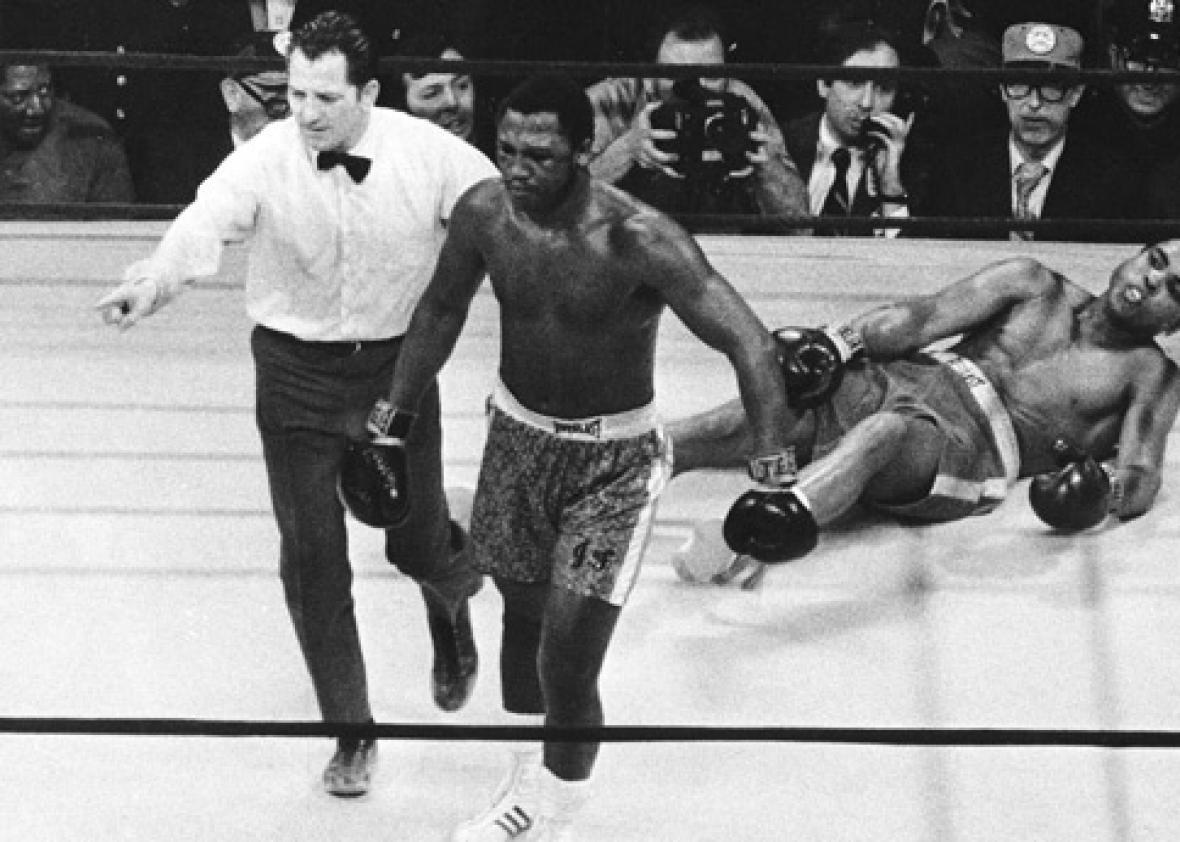 Joe Frazier was the shadow in the Muhammad Ali epic, worthy of respect but only as foil, Grendel's Mother to Beowulf. That's fine for literature, too bad for history. Frazier was as representative of America in the Sixties and Seventies as The Greatest.
What he wasn't—despite the current posthumous beatification—was a better fighter or a better man than Ali. That's absurd. They were on different planets. Ali was an artist and, depending on your point of view, idol or Antichrist. Smokin' Joe was an honest workman, what boxing insiders call "a banger," willing to take punishment to give punishment. He was a role model for those with nothing to invest but their bodies.
When I think about Frazier—as I often have over the years, feeling I should write more about him, if only to better understand Ali—I imagine Joe at 12 or so as his father's missing left arm on the plow. I'm not sure if that's real or a creation myth, but I think it's a way of trying to appreciate this hard man who died on Monday at age 67, his liver riddled with cancer and his soul embittered. In life, he never quite got his due.
There is no way to justify Ali calling him a "gorilla" and an "Uncle Tom" before their fights. The taunts are even more disgusting if they were merely to boost ticket sales, commerce over decency from a self-righteous religionist. We'll chalk it up to yet another Ali paradox. Joe was simpler. The grudge he carried for so many years was understandable although his expression of it was ungenerous. "I did that to him," Frazier was likely to boast when asked about Ali's terrible physical deterioration.
This glorification of Smokin' Joe actually began several years ago with documentaries and books that used him as a vehicle—not always unjustified—for attacking Ali. Once again, Joe was the opponent, not the headliner. Those who reviled Ali as the symbolic hero of liberals, the literati, protestors, and independent blacks could use Joe to batter Ali yet again.
Joe was presented as the true patriot, the authentic Negro, the working man's hero. Ali was the hypocrite, the con man, the showboat without substance. That these two African-Americans needed to be compared is a lesson in the ongoing vicious vacuousness of our racial history. Yet even in piles of manure, there are edible seeds. Joe's life story is instructive.
The youngest of 12 children of field workers in coastal South Carolina, a school dropout at 13, Joe would have been typically crushed and buried without his fierce work ethic and his dream of becoming a boxer. Boxing was a major sport in the Fifties and Sixties, a chance for poor boys to make a living if not a killing. He was never particularly talented; but he was strong and determined.
By 16, he was working in a Philadelphia slaughterhouse. He was, as he once described himself, "a small piece of leather but well put together." In the pitiless survival wars of the North Philly boxing gyms, he soon drew attention for his refusal to back up or down. At 20, he won the heavyweight gold medal at the 1964 Tokyo Olympics. A year later, he had the sponsorship of local businessmen. He was a pure fighter. No dancing, not much defense, his only real tactic an attempt to maneuver an opponent into range of his murderous left hook. His brutal method gave dependable pleasure to pure fight fans. There will be blood.
Through his twenties, Joe plodded after Ali, who was two years older. By the time they finally met, on March 8, 1971, in Madison Square Garden, Joe had finally emerged from a weak field as heavyweight champion. Ali, meanwhile, was beginning to shake off the rust of more than three years of forced exile from the ring after refusing to go to Vietnam.
The photo at the top of this article is from that fight, one of the century's most anticipated. In the picture, Ali is on his back in the ring and Frazier is marching to a neutral corner. At ringside, a pale, troubled-looking young man with a telephone clapped to his left ear is reporting the news of the knockdown to the New York Times office. I've often looked at that picture and wondered what I was thinking, beyond the delusion that Ali had been winning up until then—my bias to be sure. Was I worried that Ali, my story for seven years, was over? Would Ali just be another opponent now for contenders on the rise? And most important—if watching Ali lose made me so sad, did that mean I should bail out of this business? (I did, six months later.)
But if I thought of Frazier at all it was only in his role of authenticating Ali's return through this trial by terrible combat. Ali had lost his title by fiat not fight, and taking punishment from Frazier seemed to be the final payment to America for his refusal to serve in the Army.
Then, in 1974, Ali would improbably beat Foreman in Zaire to become champion again. A year after that, Ali would beat Frazier in their third fight, the Thrilla in Manilla, considered by many the classic heavyweight match. Both men were damaged by that fight and Joe was, as Angelo Dundee, Ali's trainer, delicately informed me, "shot city."
I always found Joe direct and friendly, if a little boring, unless he was talking about Ali and became testy. He had stood up for Ali when his title was stripped, he had lent him money. He could never understand the slurs. Neither could I. But Joe should have gotten over it, for his own sake.
So let's give Frazier his due but not over-sentimentalize him. He was a decent man, if unforgiving. He was a true gladiator, and thus also a showman in his way. Calling him one of the greatest heavyweight champions in history is OK by me—but one of how many greatest?
Ultimately, there's not enough shelf space for fighters these days beyond the legends of Joe Louis and Ali, both neutered by sanctification. While we can, remember Frazier as a working man willing to take his lumps.