Rick Reilly's Complete Dental Records
Why is America's most famous sportswriter obsessed with molars, gingivitis, and floss?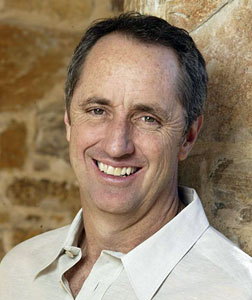 In 1998, Rick Reilly wrote that Carolina Panthers quarterback Kerry Collins had "all the 'nads of a jelly Danish" for asking to be taken out of the team's starting lineup. "Maybe I'm just getting old, but I remember when your average NFL player would come to the sideline, spit out three bicuspids, Scotch-tape his humerus together and get back out there,"Reilly opined in Sports Illustrated. On Nov. 19 of this year, Reilly praised Collins in ESPN the Magazine, explaining that the QB "never makes excuses" for his failings. By contrast, he asks us to consider Dieter Baumann, a German runner who nine years ago explained away the results of a drug test by saying his "toothpaste was spiked."
It's not particularly significant that Rick Reilly did a 180 on Kerry Collins, who has improbably led the Tennessee Titans to an 11-1 record this year. Every columnist should be entitled to change his opinion, and Reilly—the 11-time National Sportswriter of the Year, longtime resident of SI's back page, and recent ESPN hire—is more entitled than most. What is worth noting, however, is the remarkable persistence of Reilly's favorite linguistic maneuver: the dental one-liner.
Bicuspids and toothpaste are just the beginning of Reilly's oral fixation. Dental floss is a particular passion. In a July 2005 SI column, he said that riding in Lance Armstrong's team car at the Tour de France was "about as boring as flossing a shark." I'd "sooner floss crocodiles" than go skydiving, he wrote in 2003. Three months before that, he broke off a punch line—"Clyde Barrow used to floss"—that had something to do with Utah basketball coach Rick Majerus. Tiger Woods' victory in the 2002 Masters had, in Reilly's estimation, "all the suspense of a good floss." In 2001, after complaining at length about baseball commissioner Bud Selig, he added: "On the plus side, he flosses regularly." In 2000, he said that a hammerhead is the "kind of shark that flosses triathletes from between its teeth." A year earlier: Wayne Gretzky "would rather spend a year flossing rhinos" than undertake a long farewell tour. Upon turning 40 in 1998, Reilly imagined his perfect day: Play strip poker with Heidi Klum, watch Pat Riley go bald, "[f]orget to floss." That January, he observed that downhill "[s]kiing isn't like flossing sharks." In 1992, Reilly conjured the perfect endorsement opportunity for large-toothed Broncos QB John Elway: Johnson & Johnson dental floss. And in 1990, he noted that a golf contraption called the Swing Ring was "as much fun as flossing." (In the interest of brevity, I'll omit the floss joke that Reilly cracked recently on ESPN.com, as well as the two floss quips in his golf novel Missing Links.)
Pick up a handful of Reilly's columns, and you'll soon be overwhelmed by the patois of the hygienist's office: cavities, fillings, molars, root canals, gingivitis. News database searches of the sportswriter's output for the Los Angeles Times, SI, the Times of London, and ESPN, as well as an examination of four of his books, reveal that Reilly has cracked a minimum of 116 dental jokes in his career: 95 in his newspaper and magazine writing and 21 in his books. My not-so-scientific tooth-joke-finding methodology: to Nexis and Google every chopper-related word I could think of. The final total would've been a lot higher if I hadn't restricted it to tooth references that were 100 percent superfluous—that is, jokes and turns of phrase that come out of nowhere in otherwise toothless stories. Any dental fragment that appeared for a defensible reason—Reilly sharing an anecdote about a basketball player's bloody tooth falling into his notebook, or explaining what it's like to be a Chicago dentist who shares a name with Michael Jordan—didn't make my count. (I was a little less forgiving when it came to Reilly's fiction, considering that he manufactured all of the tooth-baring scenarios.)
As a service to sportswriting and dentistry aficionados, I've compiled all of Reilly's tooth jokes on a single page, with a link to the relevant story when available. Along with all the floss, you'll find 11 molars (three of which are impacted), nine tooth-having or floss-happy animals (three sharks, two crocodiles, two rhinos, a deer, and a schnauzer), seven allusions to picking one's teeth (the items picked out include spinach, AstroTurf, and Retief Goosen), six sets of bicuspids, six orthodontists, five dentists, four allusions to the pains of gum surgery, two cavities (one of which belongs to a sick crocodile), and references to both "standing around waiting" and PGA Tour Qualifying School as evoking anesthetic-free dental surgery. For visual learners, there's a tag cloud below—the larger the word, the more Reilly's used it.
Rick Reilly's Dental Tag Cloud
bicuspid
braces
brush
cavity
chipped
choppers
Crest
dental
dentist
dentistry
dentures
fillings
floss
gingivitis
gnash
grind
gums
hygienist
impacted
incisors
molar
orthodontic
orthodontist
overbite
pearly whites
pick
plaque
Poli-Grip
pull
root canal
spit
teeth
tooth
toothache
toothbrushes
toothpaste
Read all of Reilly's tooth jokes in one sitting, and you'll get an alternative, oral history of the last two decades in sports. In one of his maiden SI pieces in 1985, Reilly described soon-to-be hit king Pete Rose as "sliding molars first." When Tiger Woods first rose to fame as an amateur in 1995, he wrote that the golfer possessed "a Steinway smile that would make an orthodontist go broke." Mark McGwire chased Roger Maris' home run record in 1998, brandishing "the kind of power that causes 50,000 people to display their cavities in unison." And this year, as A-Rod became a tabloid staple, Reilly said that the Yankees third baseman probably wished that "he'd gone into dentistry."
Despite an early affection for molars—six mentions between 1985 and 1990—Reilly's mouth fetish didn't really take off until he started writing a regular weekly column for Sports Illustrated in 1998. As you'll see in the chart below, seven of the writer's top-eight tooth years have come in the last decade. (Note that the bar graph takes into account only Reilly's newspaper and magazine stories.)