Moneygolf
Will new statistics unlock the secrets of golf?
One of the many ways that golf boggles the mind is how you can be both so bad at it and so good. Golf will allow moments of grace, like the 5-iron that rolls to two feet or the 40-foot putt that finds the cup. For that brief, shining moment, you hit a shot as well as a human being possibly could. You will never wrongfoot an NBA defender, you will never turn on a 95 mph fastball—but on the golf course, you can occasionally equal the best in the game. Right?
Actually, no. Golf researcher Mark Broadie has a database full of amateur shots: the drives we shank, the 9-irons that go sideways. He compared the amateur game with the pro game. The results were instructive, but they were not pretty.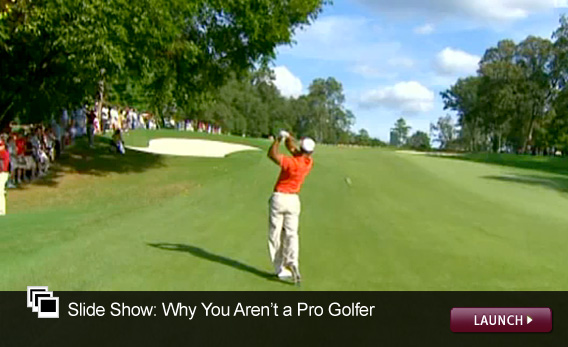 Zen Golf vs. Moneygolf: Should the pros pay attention to statistics?
This isn't the first time that a new technology has descended upon golf, promising to change the game. In To the Linksland, * Michael Bamberger's 1992 book about caddying on the European tour, there's a passage in which Bamberger seeks the counsel of a wizened Scottish pro named John Stark. Here's the short version of their first encounter:
"Tell me what it is you seek to accomplish," John Stark said.

"I want to get better," I said quietly.

"You want to get better, a worthy goal," Stark said. "But what makes you think tuition is the way to improvement? I've seen many players ruined with instruction. I've seen instruction rob a player of all his natural instincts for the game."
Stark then begins a long monologue in which he dismisses American players as "outstanding golf robots" and argues that the fad for high-speed photography of golf swings corrupted the game in the 1950s: "It all seemed so obvious: there was a correct position for everything, all the points in the swing." But that was a false path. The game became too "technical" and the players lost their way.
In golf, there have always been those who side with "instincts" and those who side with analysis. I love the stories about 1920s professional golfer George Duncan, who would swing at his ball as soon as he reached it. He considered practice strokes tantamount to cheating. (Those early pros would also be amazed at how today's top players stalk the green for days to line up a putt.) In our time, the most instinctual golfer would be putting enthusiast Ryan Moore, who, at times, will disdain even to consult a yardage book.
When I talked to players on the PGA Tour—the alleged "golf robots"—I was surprised by how skittish they were about stats. Players certainly understand the importance of gaining a fractional advantage on the competition. When Phil Mickelson approached short-game guru Dave Pelz for help in 2003, Pelz was surprised that the game's pre-eminent player from short range would need his help. Mickelson's answer: "I want to be a quarter of a shot better per round in the majors." Most golfers don't seem to believe, though, that scrutinizing stats will get them the fractional gains they crave.