The Longform Guide to Football in Crisis
Fascinating stories about concussions and what they mean for the sport's future.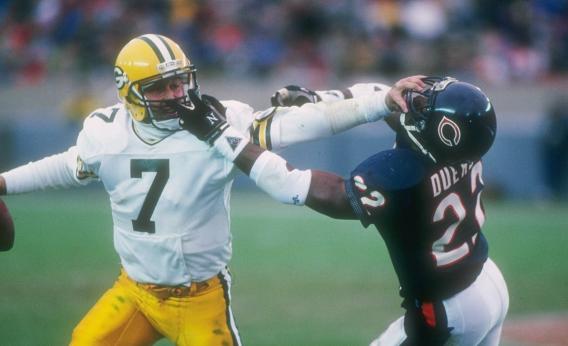 Every weekend, Longform shares a collection of great stories from its archive with Slate. For daily picks of new and classic nonfiction, check out Longform or follow @longform on Twitter. Have an iPad? Download Longform's app to read the latest picks, plus features from dozens of other magazines, including Slate.
Journalists' interest in football violence is nothing new, as this grim illustration from an 1891 issue of Harper's proves. But over the last few years, as the science has improved and the suicides have mounted, the NFL's concussion crisis has become something of its own beat. An issue that didn't exist 10 years ago is now inextricably linked with the sport's future, and reporters across the country have been trying to make sense of it. Some highlights:
Jeanne Marie Laskas • GQ • March 2011
The story of former Vikings linebacker Fred McNeill and the lasting impact of his concussions.
"His memory started failing as early as the mid-'90s. He never told Tia; he didn't understand it himself. Even when he got voted out of Zimmerman Reed, and then the next firing, and the next. Everything was just taking so long. Something that should take an hour was taking him four. Reading a brief. The simplest tasks. He blamed his deteriorating eyesight. He went to an eye doctor—the only medical help he ever sought. He got glasses, then stronger ones, and stronger ones still. He kept forgetting things. He was supposed to pick up Freddie at school. Forgot. So many thoughts just—poof! He learned to compensate. He learned to say 'Nice to see you' instead of 'Nice to meet you.' The latter was simply too risky. Apparently some of those people he had been saying that to were friends. But he had no memory of them. Blank. So it was 'Nice to see you,' always, just in case.
"The boys were so young they thought their dad was just acting dumb when he would forget things. They thought he was being funny, and when he did that, they would punch him in the gut.
"That was important information, the gut punch. That meant: You just messed up, Fred. You messed up bad. Come on, get it together. Act like you know what the hell is going on."
Plus: "Game Brain": Laskas on how the NFL would need to confront concussions. (GQ • October 2009)
Ben McGrath • The New Yorker • January 2011
The history of safety crises in football, why this one is different, and how it could change the game.
"As for football's fate, 'I don't think it'll be driven by public opinion, but by lawyers and insurance companies,' David Meggyesy, who played linebacker for the St. Louis Cardinals in the nineteen-sixties, told me. Meggyesy was put off by the sport's cultural overlap with American imperialism, as he saw it, and wrote a book, Out of Their League, that served as football's Ball Four: a startling exposé that reads, a generation later, as largely unsurprising. He wrote, 'When society changes the way I hope it will, football will be obsolete.' He also mentioned to me in an e-mail, not long ago, that he had reacted with 'big pride' when his rugby-playing daughter confessed to him, 'You know, Dad, I really love to hit.' The tension is within us all. But with new medical evidence may come new legal risk and liability, and recalibrated insurance premiums, for schools as well as for individuals. 'Football may go the way of gymnastics, where these private entities will come forward and have teams,' Meggyesy said, envisioning a scenario in which the social pecking order at American high schools is not driven by quarterbacks and their doting cheerleaders."
J.R. Moehringer • ESPN the Magazine • August 2012
Searching for proof that football will endure.
"94. Football will survive because its absence would create a cultural vacuum. Maybe not a vacuum, because nature abhors a vacuum and nature wouldn't abhor the loss of football. Nature would be fine. The death of football would create a cultural DustBuster. 'Institutions are embedded in it,' Oriard says. 'It's embedded in institutions. If it goes away, the question is, What replaces it? How will we satisfy whatever needs it served?' Offhand, Oriard can't think of a way."
Gus Garcia-Roberts • Miami New Times • April 2011
The demise of a Pro Bowl safety, whose last wish before shooting himself in the chest was for his brain to be sent to the NFL's brain bank.
"Dave climbed into bed alongside the flag, baubles, and certificates. Head cleanly shaven as always, he wore a short beard under his thick mustache. A one-and-a-half-inch scar through his left eyebrow was courtesy of a hard hit on Dallas Cowboys running back Herschel Walker 25 years earlier. 'I'm bringing it! I'm bringing it!' he had hollered upon jumping back to his feet, the gash streaming blood.
"On this day, he was naked except for a gold chain around his neck."
Jane Leavy • Grantland • August 2012
A profile of Dr. Ann McKee: preeminent neuropathologist, Packers fan, football's "only hope."
"War-painted denizens of the upper deck may view her as The Woman Trying To Destroy Football. In fact, she is The Woman Trying To Save Football From Itself. The process has engendered a particular intimacy with those who entrust their loved ones to her posthumous care. Virginia Grimsley, whose husband, John, was the first NFL player diagnosed by McKee, says, 'He's in good hands with her. They're all in good hands with her.'
" 'If Joe Six-Pack was as educated as the wives that have gone through this and as Dr. McKee, Joe Six-Pack would sit down, shut up, and continue to drink his six-pack,' Grimsley says. 'She's not trying to destroy football.'
"McKee says: 'I'm just trying to tell football what I see.' "
Malcolm Gladwell • The New Yorker • October 2009
How different are dogfighting and football?
"Professional football players, too, are selected for gameness. When Kyle Turley was knocked unconscious, in that game against the Packers, he returned to practice four days later because, he said, 'I didn't want to miss a game.' Once, in the years when he was still playing, he woke up and fell into a wall as he got out of bed. 'I start puking all over,' he recalled. 'So I said to my wife, 'Take me to practice.' I didn't want to miss practice.' The same season that he was knocked unconscious, he began to have pain in his hips. He received three cortisone shots, and kept playing. At the end of the season, he discovered that he had a herniated disk. He underwent surgery, and four months later was back at training camp. 'They put me in full-contact practice from day one,' he said. 'After the first day, I knew I wasn't right. They told me, 'You've had the surgery. You're fine. You should just fight through it.' It's like you're programmed. You've got to go without question—I'm a warrior. I can block that out of my mind. I go out, two days later. Full contact. Two-a-days. My back locks up again. I had re-herniated the same disk that got operated on four months ago, and bulged the disk above it.' As one of Turley's old coaches once said, 'He plays the game as it should be played, all out,' which is to say that he put the game above his own well-being."