The Longform Guide to the Olympics
Munich, the Dream Team, and all those condoms: the highs and lows of Olympic history.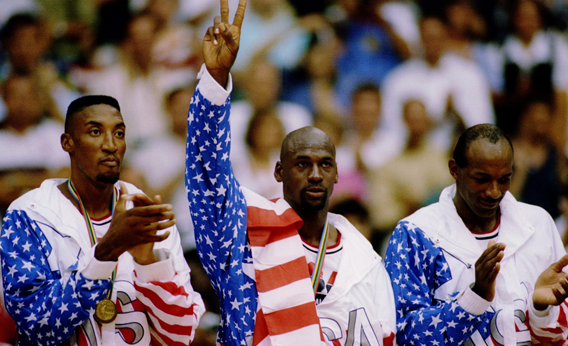 Every weekend, Longform shares a collection of great stories from its archive with Slate. For daily picks of new and classic nonfiction, check out Longform or follow @longform on Twitter. Have an iPad? Download Longform's app to read the latest picks, plus features from dozens of other magazines, including Slate.

We're less than a week from the opening ceremony for the Summer Games in London. If you can't wait that long, here are five articles on the Olympics—some new, some on Games played more than 100 years ago—to tide you over. We had a little too much fun tracking these stories down; for the true Olympaphiles out there, we've compiled a longer list of favorites on our blog.

High Hurdles and White Gloves
Thomas P. Curtis • Atlantic • December 1956

An American gold medalist in the hurdles describes his experience at the 1896 Olympics in Athens.
"We were met with a procession, with bands blaring before and behind, and were marched on foot for what seemed miles to the Hotel de Ville. Here speech after speech was made in Greek, presumably very flattering to us, but of course entirely unintelligible. We were given large bumpers of the white-resin wine of Greece and told by our advisors that it would be a gross breach of etiquette if we did not drain these off in response to the various toasts. As soon as this ceremony was over, we were again placed at the head of a procession and marched to our hotel. I could not help feeling that so much marching, combined with several noggins of resinous wine, would tell on us in the contests the following day.
"My doubts were deepened on meeting the proprietor of our hotel. He asked me in what events I was going to compete, and when I named particularly the high hurdles, he burst into roars of laughter. It was some time before he could speak, but when he had calmed down enough, he apologized and explained that it had seemed to him inexpressibly droll that a man should travel 5000 miles to take part in an event which he had no possible chance to win."
E.J. Kahn • The New Yorker • September 1972
On the scene of the darkest games in Olympic history.
"I arrived at the big stadium early for Wednesday's 10 a.m. memorial service, after passing en route a number of basketball players working out on a practice court. The Duke of Edinburgh had arrived early, too, I learned. About two thousand chairs had been set up in the field for athletes, though there were four times that number of athletes within walking distance of the spot. The flags, of course, were at half staff—they remained that way for a mere twenty-four hours—but the Olympic torch had not been dimmed, and the big question on many minds was: With the flame already extinguished figuratively, would Brundage and his I.O.C. douse it literally and end the competitions? The only sign of sport in the stadium was one steeplechase hurdle, at the water hazard over which the sensational Kenyan runner Kipchoge Keino had blithely glided to win a gold medal on Monday, which seemed aeons ago. The Munich Philharmonic Orchestra was on hand to open the proceedings with the Funeral March from Beethoven's 'Eroica' Symphony. At nine-thirty-five, the athletes began to appear—wearing their team blazers but without flags or other national symbols—some marching in formation, some drifting in casually. Soon all the seats reserved for them were filled; what was left of the Israeli team sat up forward, directly in front of the speakers' stand. The Israelis were easy to spot, because of their white yarmulkes, but it was hard to identify many of the others. The electronic scoreboards were blank; their computers had not been programmed for this kind of happening. (So inflexible are these swift machines, we learned yesterday, that the names of the Israeli athletes who were killed will nonetheless appear on future starting lists of competitors—with 'Not Present' after them. Klein's office has explained, 'We ask you to accept this as a technical necessity, and not as a lack of reverence.' When you can't remove dead men from a lineup, there must be something wrong with the system.)"
Jack McCallum • Sports Illustrated • July 2012
On the eve of the 1992 Summer Olympics, the Dream Team held a closed-door scrimmage in Monaco. Michael Jordan led one team, Magic Johnson the other. Two decades later, a game report.
"By breakfast this morning Daly had decided that his team had better beat itself up a little bit. The Dream Team had scrimmaged several times before this fateful day, a couple of the games ending in a diplomatic tie as Daly refused to allow overtime. He normally tried to divvy up the teams by conference, but on this day Drexler was nursing a minor injury and Stockton was still recovering from a fractured right fibula he had suffered in the Olympic qualifying tournament. Lord only knows how this morning would've gone had Drexler been available. Jordan had already taken it upon himself to torture the Glide in scrimmages, conjuring up the just-completed NBA Finals—in which Jordan's Bulls had beaten Drexler's Trail Blazers in six games—and taunting Drexler, 'Stop me this time!'
"So with two fewer Western players than Eastern players, and only two true guards (Magic and Jordan), Daly went with Magic, Barkley, Robinson, Chris Mullin and Laettner on the Blue Team against Jordan, Malone, Ewing, Pippen and Bird on the White.
"The gym was all but locked down. The media were allowed in for only the last part of practice. A single cameraman, Pete Skorich, who was Chuck Daly's guy with the Pistons, videotaped the day. It was a closed universe, a secret little world: 10 of the best basketball players in the world going at each other. Daly had a message for them: 'All you got now. All you got.' "
Sam Alipour • ESPN the Magazine • July 2012
Sex in the Olympic Village.
"Home to more than 10,000 athletes at the Summer Games and 2,700 at the Winter, the Olympic Village is one of the world's most exclusive clubs. To join, prospective members need only have spectacular talent and—we long assumed—a chaste devotion to the most intense competition of their lives. But the image of a celibate Games began to flicker in 1992 when it was reported that the games' organizers had ordered in prophylactics like pizza. Then, at the 2000 Sydney Games, 70,000 condoms wasn't enough, prompting a second order of 20,000 and a new standing order of 100,000 condoms per Olympics.
"Many Olympians, past and present, abide by what Summer Sanders, a swimmer who won two gold medals, a silver and a bronze in Barcelona, calls the second Olympic motto: 'What happens in the village stays in the village.' "
Mark McClusky • Wired • Jun 2012
How science is "helping athletes approach perfection."
"For elite athletes, traditional training is no longer enough. To go from great to the best in the world, it's now essential to optimize every bit of performance, even if the gain is just a hundredth of a second. So in addition to relying on their coaches and teammates, they work with biomechanists, physiologists, psychologists, nutritionists, strength coaches, recovery experts, and statistical analysts. Rather than just eating their Wheaties like Bruce Jenner, they guzzle beet juice before a workout, because their team of nutritionists has determined that the nitrates it contains can improve aerobic exercise performance by as much as 2 percent. They don't just rub Bengay on tired muscles, they follow elaborate hydrotherapy regimens to limit muscle damage and reduce soreness by 16 percent. And instead of pounding out hour after hour of training, they sometimes do a targeted workout of insanely high intensity, approved by their physiologists, which can give them better results in as little as four minutes.
"In short, science has become an integral part of an athlete's quest to reach new frontiers of accomplishment."