The Legend of Simone Biles
Her gymnastics miracles look effortless, but it's her rare stumbles that show how magnificent she truly is.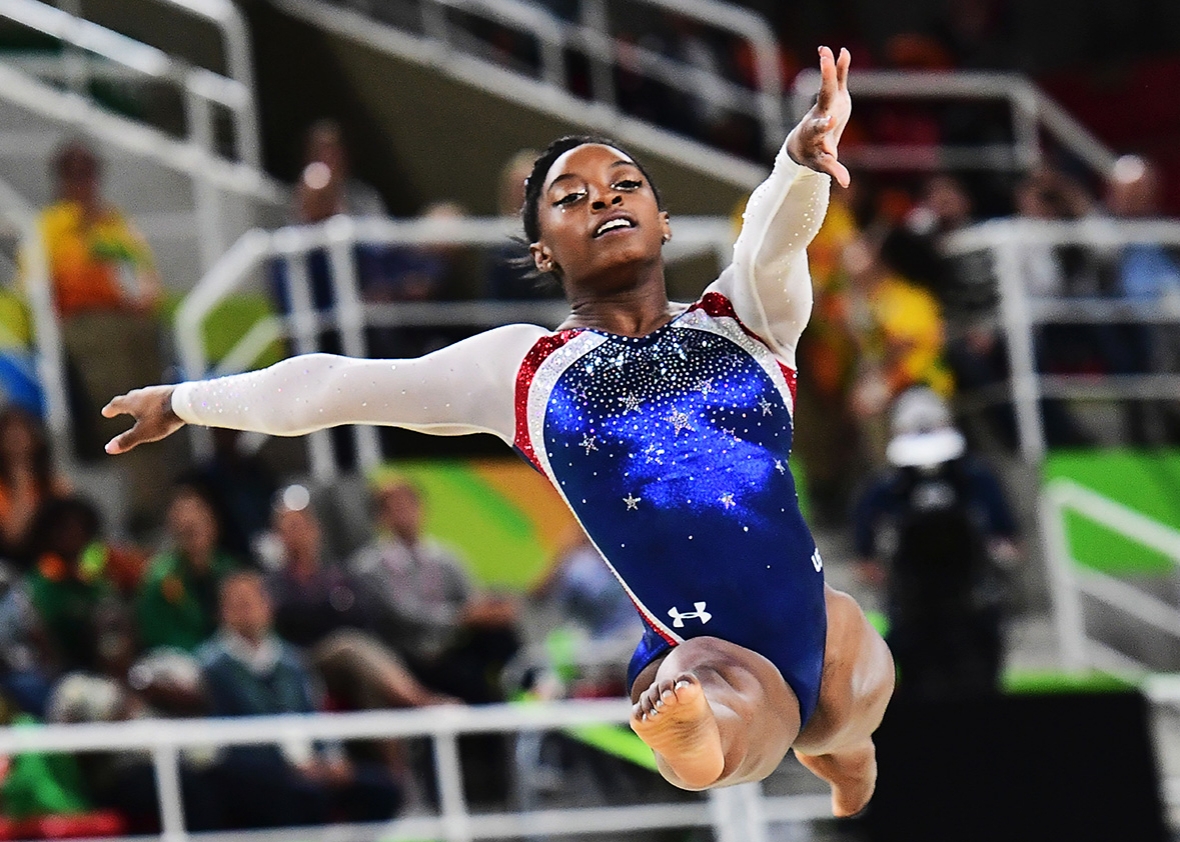 Saying Simone Biles was "the favorite" to win the women's individual all-around competition at the 2016 Olympics is like saying the Earth is favored to rotate around the sun. At an elfin 4-foot-8, Biles towers above every other gymnast like a glittery skyscraper. The 19-year-old American came to Rio having racked up three consecutive world championships. Her seemingly effortless performances in qualifying and the team finals—where she led the U.S. to gold by a comical margin of more than eight points—solidified her status as an athlete apart. Plus, Biles had wiggle room: Her high-flying routines merited higher difficulty scores, and thus higher point ceilings, than anyone else's. On Thursday, her maximum possible score was 65.9, compared with her teammate Aly Raisman's 65.2 and eventual bronze medalist Aliya Mustafina's 64.4. To jeopardize her first-place finish in the all-around, Biles would have needed to mess up spectacularly—multiple times.
And that just didn't seem possible. Before Biles set foot on the Olympic stage, the likes of Nastia Liukin and Mary Lou Retton hailed her as an otherworldly force that would remake gymnastics. Her powerful sprints on the floor and vault give her more time in the air in which to tumble and spin. Her small, strong frame makes her the perfect rotating projectile. She's also a bold, unflappable, and buoyant performer, an athlete commonly described as "rock solid," "relaxed," and "bubbly."
Prior to Thursday night's coronation, we'd already had the chance to marvel at Biles' muscular, kinetic grace—the double layout with the half twist (known, naturally, as "the Biles"), the evilly hard Amanar vault executed with aplomb, the immaculate mic drop landings. Biles beams at the audience, then launches herself through her skills like an arrow toward a bull's-eye. Her floor routine is mesmerizing. Her balance preternatural. She wears bright, spangly leotards and eye glitter. So accustomed are Olympics viewers to her cheerful, no-drama dominance that we breathe a sigh of relief whenever she appears, forgetting for a moment the stress and anxiety of watching a sport wherein the competitors are typically separated by hundredths of a point.
And so I expected the individual all-arounds to pass like a pleasurable daydream. Biles would skim happily through the ether until her last flip sent her sailing onto the first-place podium. But the reality on Thursday was far more agonizing. Biles did OK on her devilish vault, acing the actual midair twists but stepping out of the landing (she still got the top score). She faltered on the uneven bars. NBC's online play-by-play man, Jim Watson, explained she'd feared this event as a child; it remained her least favorite. Courtney Kupets, a former Olympian herself, said she battles the apparatus rather than floating above it—that she "uses her muscles more than swing" to fly from one bar to the other. (Here, her compact physique is less of an advantage.) By the end of the second rotation, Biles had slipped to second position, behind the Russian Mustafina. Was that even possible?
Don't worry—we still inhabit planet Earth, and on this planet Simone Biles remains the all-time world-historical queen of gymnastics. She roared back to first on the balance beam, a wobble or two doing little harm to her score given the audacious difficulty of her routine. Then she owned the floor, body rolling, flying, and spinning her way to a radiant finish, just like we knew she would. Her teammate Raisman, who'd stumbled after the bars to an almost-as-unfathomable fourth, delivered remarkable, commanding performances on the beam and mat as well. Raisman's best was good enough for second place.
In the end, Biles won by 2.1 points—a larger margin of victory than those in the 1980 through 2012 women's all-around competitions combined. She didn't earn that margin because she'd stuffed her routines with the sport's most-difficult maneuvers. If the competition had been graded strictly on execution, Biles still would've finished miles ahead. She does things everyone else can't do, and she does those things more smoothly than lesser gymnasts do their lesser gymnastics things. That is why Simone Biles is the best of all time.
Despite understanding all of that intellectually, watching her beam routine was still harrowing. Even inevitability isn't inevitable, especially when you're flipping your body down the length of a 4-inch-wide plank in front of the biggest audience in the world. Is there any athletic event that's more physically or emotionally stressful than the Olympic balance beam? When the "Queen Bee medal" is at stake? When the entire world expects you to win?
Doubt crept into the arena for the first time on Thursday. When that happened, I remembered, with a shock, how staggeringly dangerous and difficult gymnastics is. Biles has "walked between the raindrops," suggested one of the NBC commentators at the beginning of the competition. Despite her routines' stratospheric demands, she's managed to avoid injury since hurting her shoulder early in 2014. Sure, she makes it all look flowing and weightless and dreamed up on the fly, but that's just a reflection of her tremendous talent. There is a huge chasm between the difficulty of her sport and the ease with which she's expected to win.
No matter how much better you are than any other living gymnast, you still have to execute your moves. You are required—by yourself and under unimaginable pressure—to stare down maneuvers that defy the laws of physics. This is not throwing a ball into a basket.
In the team competition, American dominance was almost mathematically assured: The U.S. boasts more brilliant gymnasts than any other country, and those gymnasts collectively were given 12 routines in which to reveal their glory. They could biff three and still embarrass the rest of the world. But in the individual contest, Biles had just four chances to flip and twirl and hopefully not fall. To clinch her victory on Thursday, she had to score a 13.9 in her final event, the floor exercise; she scored a 15.933. In the team competition, though, she had to score a mere 7 for the U.S. to win. Telling a world-class gymnast that she needs to score 7 points? That's easy. Thursday night was not easy for Simone Biles. Everyone said her victory was a foregone conclusion. It wasn't.
"It's Simone Biles against Simone Biles," NBC's Tim Daggett marveled in prime time on Thursday night. He was correct: Before the American aeronautical wonder could beat the Russians or Chinese, she had to tamp down her own stress and fear. "She's not as loose or carefree as she appeared before," Liukin said mournfully on Thursday, even as the object of her sadness pulled off another airy miracle on the beam.
The few bobbles Biles did make on her way to the gold medal only add to her mythological stature. She doesn't fight people; she wrestles with elemental abstractions like math and gravity. Every time she wins a gold medal, Isaac Newton wins silver. Biles competed magnificently on Thursday: She is probably the greatest gymnast who ever lived. During the last event, when she hung suspended over the floor a moment before slamming down to a perfect landing, we hung with her in the daydream, the sparkly fantasy that it had all been so easy.