The Medal Table Time Machine
How many medals the 2014 U.S. Olympic team would've won in 2010, 1998, 1924, and every other Winter Games.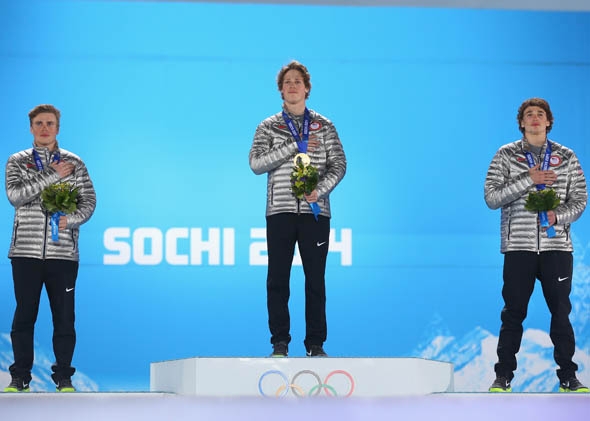 On Friday in Sochi, the United States' Noelle Pikus-Pace took silver in the skeleton, bringing the United States' medal count to 13. Asof Friday evening, that total was tied for the most at the Winter Games. If these were the 2010 Winter Olympics, however, Team USA would have been way down in eighth place. That's because seven of the United States' medals—including the three won by Joss Christensen, Gus Kenworthy, and Nick Goepper in men's ski slopestyle—have come in events that weren't on the 2010 Olympic program.

There are 98 medal events scheduled for 2014 compared with 86 at the 2010 Vancouver Games, 78 in 2002, and all the way down to 16 medal events at the first Winter Olympics in 1924. While the addition of new events like slopestyle theoretically gives every country more opportunities to win gold, the United States has benefitted more than other locales. The Netherlands, which has all of its 12 medals in speedskating—an original Olympic sport—would be on top of the medal table if we were playing by the rules of 1924.
In our Medal Table Time Machine below, click the year on the left to see how the 2014 medal count would change if competition were restricted to the events held in 2006, 1980, or any other year. Select a year and you'll also see a list of the 2014 events that were not contested during that particular Winter Olympics.
Last updated Feb. 23, 1 p.m. ET
The Medal Table Time Machine
Some methodological notes: Events have been separated by gender and, in many cases, distance. The Netherlands' 12 speedskating medals get reduced to six if we're playing by the rules of 1924. There was no women's speedskating in the Chamonix Games, so that's why four of the Dutch medals vanish. The two medals the Dutch men won in the 1000-meter event in 2014 also go away because that was not one of the distances contested in 1924.
There are a small handful of events that make exact comparisons impossible. Four cross-country skiing races have changed lengths over the years—the men's 15 kilometer event, for instance, used to be 18 kilometers. In these cases, the new event was counted as a continuation of the old, and not as a completely new event.
The table will be updated once per day throughout the 2014 Games.