Watch the Women's 100-Meter Final
Slate's interactive, stick-figure re-enactment of track and field's showcase event.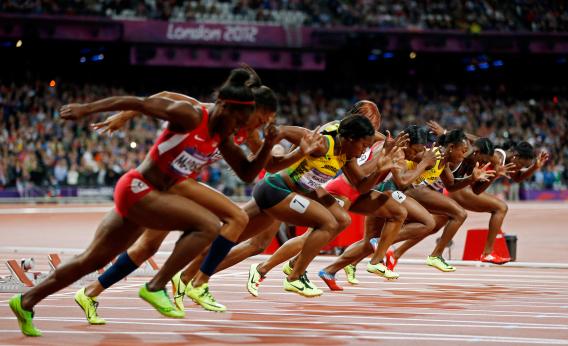 Women's 100-meter dash
Start!
Again!
Kelly-Ann Baptiste (Trinidad and Tobago), 2012
Murielle Ahoure (Ivory Coast), 2012
Veronica Campbell-Brown (Jamaica), 2012
Carmelita Jeter (USA), 2012
Blessing Okagbare (Nigeria), 2012
Shelly-Ann Fraser-Pryce (Jamaica), 2012
Allyson Felix (USA), 2012
Tianna Madison (USA), 2012
TODAY IN SLATE
Medical Examiner
Here's Where We Stand With Ebola
Even experienced international disaster responders are shocked at how bad it's gotten.