The London Olympics Sap-o-Meter
Everyone (except Kyla Ross) cries about U.S. women's gymnastics gold. Plus: Tim Daggett earns his second straight sappiest line of the day.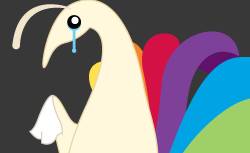 Tears—their presence, absence, and meaning—were the dominant motif Tuesday night at the Olympics on NBC. They soaked coverage of the U.S. women's gymnastics team, from discussion of Jordyn Wieber's tears of disappointment on Sunday to Kyla Ross' mysterious composure back in July when the squads were announced (she was "the only one who didn't cry like crazy," Al Trautwig kept reminding us) to Aly Raisman's tears of joy at the end of her floor routine, as she landed the final flip to clinch the gold for the United States. NBC's announcers insisted on parsing every drop, and their determination (together with some by now familiar family-style sap) pushed the Sap-o-Meter to a London Games high of 55 Sap Points.
The total would've climbed still higher if the Sap-o-Meter had been calibrated to parse every possible synonym for crying. "Could you go for the knockout blow if your opponent was sobbing?" Al Trautwig asked after NBC camera's showed the lachrymose Russian gymnastics team. "That's exactly what the Americans will try and do." The Sap-o-Meter committee has also decided not to count the six moms in the advertiser-supported "Procter & Gamble Presents: Thank You, Mom" segment, which featured gymnast Gabby Douglas on Tuesday. (Excerpt: "She is an awesome mom. Thank you, mom!"
Still, there was enough passion, adversity, and magic to go around. Aly Raisman was proud, proud, proud (three prouds) of her teammates. Al Trautwig sapped out four separate times over the "agony" of being a gymnastics parent. And for the second night in a row, gymnastics sap factory Tim Daggett earned our Sappiest Line of the Day. After a shot of Jordyn Wieber's agonized mother in the stands, Daggett got infantilizing. "So badly does mom want her little girl to feel just a little bit better," noted, comparing one of the Olympics' most impressive athletes to a weepy child.