Scrap the Paralympics
Disabled athletes should compete in the Olympics, too.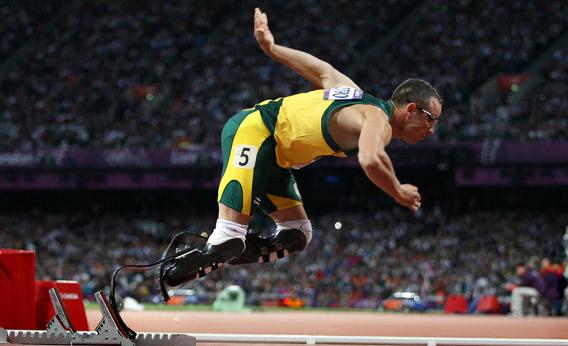 Before we know it, the Olympic frenzy will come to an end. The final medals will be handed out, the tourists and the press will head back home, and James Bond will escort the Queen back to Buckingham Palace. Two weeks after that, the London Paralympics will start—two weeks too late. The world's second-largest sporting event behind the Olympics themselves—4,200 athletes from 165 countries will compete—will receive no live television coverage in the United States.
Granted, the Paralympics will receive more attention this year than ever before. In the United Kingdom, Channel 4 has launched an amazing Paralympics promotional campaign. "Blade Runner" Oscar Pistorius, who will compete for South Africa in both the Olympics and the Paralympics, has brought unprecedented attention to amputee athletics. And yet the question keeps coming up: If the aim of the Paralympic movement is to make disabled athletes visible, why do they compete separately from able-bodied champions?
It's possible that will change in the next decade. Earlier this year, International Paralympic Committee President Sir Philip Craven suggested that a merger with the Olympics could be considered after 2020. A March poll of 10,000 people from 19 countries conducted by the BBC suggests the general public would be divided about such a move: Forty-seven percent were in favor of a merger, while 43 percent said they should remain parallel but separate events. Some high-profile Paralympians have come down on the side of separation as well. A merger would make para-athletes "disappear off the face of the earth," 11-time-gold-medal-winning British wheelchair racer Tanni Grey-Thompson told the BBC.
Two main arguments stand out in the stay-separate camp. The first is a pragmatic one. "There is not a city in the world that could host a games the size of the two combined," Grey-Thompson said. "I think it would make it very long and you don't really want to make things too long," added Paralympic swimmer Fran Halsall. "I get bored watching myself swim for eight days, so having more and more swimming I don't think would work."
The second argument against a merger is that, as Grey-Thompson suggested, it would bring less, not more, attention to athletes with disabilities. As blind broadcaster Peter White asked in the Guardian, "Faced with the choice of the finish of the Olympic marathon, or the goalball event for blind athletes, where will sports editors send their reporters?"
These are valid points, but even considering the complications a merger would bring, the Olympics should bring the Paralympics into the fold. I've been filming a documentary about goalball for more than seven months now. Contrary to wheelchair basketball or amputee athletics, which enjoy some level of acclaim, goalball—a team sport for visually impaired athletes—is already virtually nonexistent outside the Paralympic sphere. That's not because it isn't exciting. Rather, it's invisible because it's not an adaptation of an able-bodied discipline.
As a result, training as a goalball athlete is a constant struggle. Local teams rely exclusively on charities. You may think that, though this is sad, it has nothing to do with the combination of the Olympics and Paralympics. It has everything to do with it. Too few Paralympians are full-time athletes. To provide them with professional funding, there needs to be an audience for goalball or wheelchair fencing. And a merger can achieve just that.
That's exactly the opposite of what Grey-Thompson and White believe. In their opinion, embedding Paralympic disciplines in the Olympics would make physically challenged athletes fall into oblivion. While it's easy to assume that the public has no interest in disabled sports, I wouldn't be so quick to assume that sports fans are so rigid. A similar argument could have been made against women joining the Olympics in 1900. Who would watch those slow, weak females play? Boring! And even if it may be true that a boccia finale for severely disabled athletes would appeal less to the masses than an Usain Bolt-starring 100-meter dash, that's the very nature of a multi-sport event. Some Paralympic games are more popular than others, too. Given the choice to watch wheelchair rugby, aka "Murderball," or able-bodied men's 49er sailing, which would you choose?
The Paralympics have come a long way. Qualifying criteria were introduced 20 years ago, after the 1992 Barcelona Games. Before then, anyone could compete. Tickets were given away, not sold, until 1996.* In these ways, the International Paralympic Committee has pushed effectively toward a better understanding and recognition of their athletes. The competition has grown in legitimacy to establish itself as an elite sporting event. Yet because of the separate structure of the Paralympics, that recognition can only go so far.
What about the argument that a merged event would last too long? The Paralympic Games have run directly after the Olympics since 1988 and will continue to do so until at least 2020. If you add together the lengths of each competition in 2012, a combined event would last about a month—2.5 weeks for the Olympics and 1.5 weeks for the Paralympics. In essence, it's already an extremely long event. It's just that the public and the media focus exclusively on the first, able-bodied half.
What's true, however, is that the range of categories that compete in a single Paralympic sport is extremely wide. Instead of splitting athletes according to their weight and/or gender, Paralympians are placed in disability groups according to their mobility or vision levels. There are 13 swimming divisions and 10 table tennis groups. How could they all be incorporated?
The Commonwealth Games, which became fully inclusive in 2002, could serve as a template. In that quadrennial event—which is admittedly much smaller than the Paralympics, with just 71 countries competing—track and field and swimming races alternate between able-bodied and para-athletes. This means that one event, say the 400-meter dash, would last many times longer than it currently does—amputee runners might come before naturally limbed ones, who would themselves be followed by the visually impaired. So yes, the competition would be very long. But would that be such a bad thing? Peter Murphy, a spokesman for the Commonwealth Games Federation, told me that watching able-bodied and para-athletes alternate was inspirational and entertaining. "It's actually a really good spectator sport," he says. "You look at it and you think, Yes, that's how it should be."
He's right. Having Olympic and Paralympic athletes compete together would guarantee television coverage, and it would be a way to "educate" the public should it be reluctant to watch para-athletes. But I don't think such education would be required.
In a combined event, medals won by para-athletes would contribute to their nation's medal count. That would perhaps be the most meaningful change of all—one that already makes a difference at the Commonwealth Games, according to David Grevemberg, CEO of the 2014 event. With patriotism in play, the best physically challenged athletes would develop a fan base. Countries would invest more in disability sports to get ahead in the competition. And let's be cynical: The media, which (aside from Channel 4) covers so few Paralympic events, couldn't resist telling para-athletes' uplifting life stories. So many heartwarming tales of redemption!
It wouldn't be long before those sob stories turned into tales of success. By earning gold for their country, Paralympians would finally be seen for what they really are: true champions. But we're not even close to that right now. Team USA was third on the medal table at the 2008 Paralympics. Who knew? It's time to give our superhumans the attention they deserve. Let them in the Olympics.
Correction, Aug. 9, 2012: This piece originally and incorrectly stated that Paralympics tickets were given away until 2000. Tickets were sold at the 1996 Paralympic Games in Atlanta. (Return.)