Better Living Through Tape Delay
Why live sporting events are for suckers.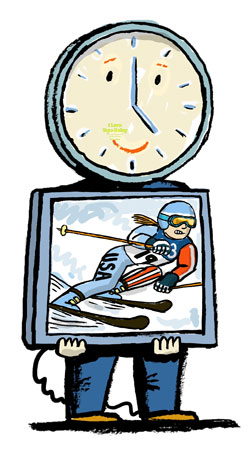 Throughout these Vancouver Olympics, a lot of people have gotten their ski socks in a twist about tape delay. NBC is broadcasting events at a time of its choosing—which is to say, prime time—and a lot of sports watchers aren't happy. These hard-core fans feel it's their birthright to watch Lindsey Vonn shush around the gates as it happens. After all, if you're forced to watch the women's super-G on NBC's schedule, then you risk having the outcome ruined by online news sites, Twitter, or your loudmouth friends. If you believe the anti-tape-delay crowd, we're suckers for letting NBC dictate when we watch. I beg to differ: The people who watch live sports on television are the suckers.
The trouble with these Games is not that the events are shown hours after they're over. The real problem is that the events are marred and needlessly prolonged by the same thing that fouls every televised sporting event: commercial breaks. This is not some personal jihad against Madison Avenue. I make my living at an ad-supported Web site and previously worked 20 years in commercial television. I simply hate the way commercials disrupt the inherent drama and flow of sports.
There are only three ways to solve this problem. The first is to give up on the Olympics and watch only soccer, the rare sport that airs without commercial interruption. Another alternative is to move to Canada, Europe, or some other place where they show the Winter Games live and without habitual commercial interruption. The other is to time-shift. This is the preferred option of the savvy television viewer.
As the rest of you fire up the plasma at 8 p.m., my DVR will be humming. You will suffer through the inevitable commercial breaks, and you'll also have to sit through the graceless performance of some also-ran from the Czech Republic. Even worse, you may have to endure part two of Mary Carillo's feature on the Canadian Mounties. After some diligent work during the day to avoid spoilers, I will start watching an hour or two into the coverage. Having no idea who won, I'll enjoy the thrills and spills of figure skating and downhill skiing without all the excruciating interruptions. It's the perfect way to watch the Olympics, or any sporting event.
Decades before TiVo became a verb, I started down the path of better living through tape delay. From March Madness to midseason Mets games to my masochistic relationship with the New York Jets, I flat-out prefer to watch on delay. While the rest of you are spending three-plus hours slogging through an NFL game, I'm polishing it off in a tidy one hour and 45 minutes. Not to mention that I'm taking in the action after having spent the day frolicking with my wife and kids. Yes, time-shifting strengthens the American family.
I can already hear you saying, Obviously, this guy is fair-weather. No serious fan would do this. Let me assure you, I am no casual fan. I once kicked a panel out of a heavy oak door in my college dorm after Joe Klecko jumped offsides in the fourth quarter of a meaningless late-season Jets loss. (No, I'm not proud of that.) For me, the single most exhilarating aspect of sports is that it is unscripted and unpredictable. I was in the stands for Bill Buckner's infamous misadventure, as well as Sid Bream's pennant-winning slide in 1992. I'm addicted to this kind of drama. So, I never watch a game or event if I know the result in advance. And I go to great lengths to remain in the dark about the outcome.
Keeping yourself in a results blackout takes an Olympian's discipline. During my 20s, I worked for a few years as a live line producer at CNN's Headline News. In what could be fairly described as dereliction of duty, I would leave the control room and cover my ears during the twice-hourly sports updates in order to avoid hearing the scores of games I was recording at home. These days, I can't turn on any sports network on game day because of the dreaded on-screen crawl. As a countermeasure, I'm considering using duct tape to mask that portion of the screen. I also demand complete buy-in from friends and family. On Sunday afternoons during the NFL season, I answer the phone, "I'm recording the Jets game, so don't tell me who won. Who is this?" Any friend who has accidentally divulged a score to me knows never to do that again.
Even if you put the friend gag order in place, you can still get burned. The classic 1987 NCAA basketball championship game was ruined for me by what amounts to a time-shifting act of God. I had to work that night at my local radio job, so I set my trusty VCR to record the Indiana-Syracuse final. My dad was home and watched the game live. When I got back at midnight, I cued up the tape. After a rousing first half, it went to snow—dad had put the recording on pause at halftime, and pause had turned to stop. I would have to catch Keith Smart's game-winning jumper on the late SportsCenter.
Time-shifting has come a long way since 1987. In the VCR age, I had to enlist my wife to check if a game had ended before I would dare approach the television. With the advent of the DVR, you no longer have to wait for the game to end to start watching. In the modern time-shifting era, I often start watching about a third of the way into whatever game I'm recording and catch up in the final minutes. This is the best of all possible worlds: no commercials, and I can finish at precisely the same time as the rest of the world.
None of this will satisfy those who thrive on the communal charms of sports—the sports bar camaraderie and the live tweets during the game. It's true that I watch many games in isolation. What I get in return is hours of my life back, along with the satisfaction derived from methodical and ruthlessly efficient execution. It's kind of like a 12-play, 80-yard touchdown drive when the game is on the line (except without the commercial interruptions).
Sure, it would be ideal if NBC showed the Olympics live—the watch-it-now folks could get their fix, and I could simply tape the Games and watch them later. This could come to pass as soon as 2014, if ESPN gets its way and wins the rights to broadcast the Olympics. But as the tape-delay naysayers get tingly over the prospect of more live events, they're missing the big picture. No matter if that comes to pass, there will still be a minute of commercial time for every two minutes of Olympic action. For the hard-core fan, the real benefit of time-shifting is that you can cram more sports into your life in less time. A DVR-truncated Olympics telecast is like enriched uranium. If you want to watch the Nordic combined in real time, knock yourself out. I'll already be on the backstretch of the biathlon course, racing toward the finish line.
To hear Josh Levin, Stefan Fatsis, and Mike Pesca discuss how NBC has covered the Vancouver Olympics, click the arrow on the audio player below and fast-forward to the 4:00 mark: