The Biggest Mistake Buster Keaton Ever Made
The year the indie film star signed with a studio.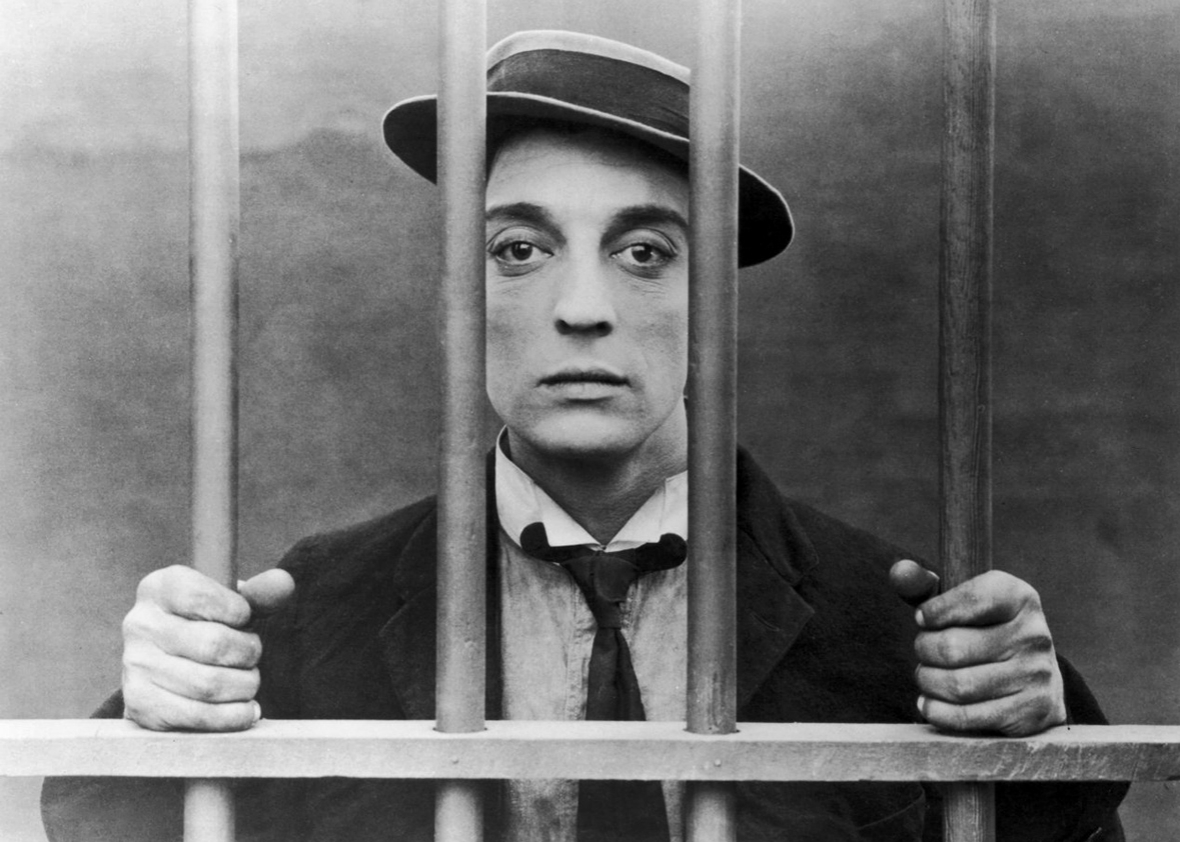 Buster Keaton, one of the first great indie filmmakers, moved to a major studio in 1928. He hated the movies he made, but they earned money and made him doubt his own abilities and taste. That's when the drinking started. Later, he would call signing with MGM the biggest mistake of his career—within a chapter in his autobiography titled "The Worst Mistake of My Life." This week's episode of You Must Remember This, the Panoply podcast about the secret and forgotten history of 20th-century Hollywood, tells the story of Buster Keaton's biggest mistake. Here's an excerpt. Listen to the complete Episode 3 below, and subscribe to You Must Remember This on iTunes.
In 1924, Buster Keaton directed his first masterpiece, Sherlock Jr., in which he plays a film projectionist who falls asleep at work and dreams himself into the world on screen. The dream logic of the movie allowed Keaton to justify a stream of surreal situations, in which Keaton performed his own stunts. Just over five months after Sherlock, Keaton released the film that would become his biggest box office hit, The Navigator, a nautical adventure, which, in plumbing comedy from the premises of innocents caught up in war and individuals dwarfed by machines, beat Charlie Chaplin to the themes of some of his greatest films by several years.
Keaton's second masterpiece came in 1926, with The General, a comedy about a train engineer set against the Civil War. Keaton spent three-quarters of a million dollars on extras for battle scenes, period costumes, and elaborate stunts, like one scene in which a locomotive attempts to cross a burning bridge, which collapses, plunging the train wholesale into a river. It actually became a tourist attraction, until the metal was scavenged during World War II.
It was his most ambitious feature yet, but critics of the day didn't get it, and audiences didn't support it. Keaton followed The General with the film that contains what are probably the most iconic Keaton images today, Steamboat Bill Jr. The movie's spectacular cyclone sequence, in which building fronts blow away and collapse on top of Keaton's hero, feels incredibly influential on the modern special effects of film, particularly the collapsing dreamscapes in Christopher Nolan's Inception. Like The General before it, Steamboat Bill was ahead of its time, which is another way of saying it also lost money.
Keaton's movies of the early and mid-1920s were visual feasts, works of comic uncanny that would anticipate surrealism before that art movement really got going and certainly before people like Salvador Dalí or Luis Buñuel had moved into filmmaking themselves. For Keaton, the image—the interplay between comic action and the opportunities to fool the eye into seeing the impossible—was what made cinema a unique art. He and Charlie Chaplin, who had a massive success with The Gold Rush while Keaton was experimenting with Technicolor for his film Seven Chances, competed to see who could make a feature film with the fewest subtitles. Chaplin ultimately won—he managed to get it as low as 21; Keaton could only get down to 23. The average silent film had 240. The most Keaton ever used was 56. He was a master of conveying action through imagery alone.
But those images didn't come cheap. For much of the 1920s, Keaton's movies were financed and independently produced by his patron, Joe Schenck, who set up deals to release Keaton's movies through studios like Metro Pictures and First National. Beginning in 1926, Schenck became president of United Artists, which released three of Keaton's movies—The General, College, and Steamboat Bill Jr.—but that's all United Artists did; it had no input into the content of the films, and they didn't interfere with Keaton's creative process.
In 1928, Schenck convinced Keaton to renounce his indie status. It seems likely that Schenck made this decision in part because Keaton's recent films had not brought in big profits for UA, but Schenck at least made it seem like he wasn't just cutting Keaton loose—he couldn't, because by this point, Schenck and Keaton were actually family; Buster had married Natalie Talmadge, the sister of Joe's wife, Norma Talmadge. So Schenck worked out a deal to sell Keaton's contract to his brother Nick's company, MGM, which in turn would sign the comedian to a contract guaranteeing a salary of $3,000 a week, plus a percentage of his films' grosses. This was a sweet deal for 1928—Buster's $3,000 weekly salary was about twice what the average worker made in a year, and it was high even by movie star standards, even at MGM— but everyone close to him advised Buster not to go to MGM. "They'll ruin you helping you," said Charlie Chaplin.
But Joe Schenck promised that nothing would change. "It will be the same as though you were still working for me," he promised. And Buster Keaton had bills to pay. In 1924 he had spent $33,000 building a house in Beverly Hills for his new wife, Natalie. But when the house was completed, Natalie—whose sisters Norma and Constance were major stars who lived lavish lifestyles—decided that the brand-new house was too small. So Keaton built another house. A bigger house. A house with 20 rooms, including a screening room and a billiards room, and a massive outdoor staircase that looked like something out of Versailles, leading to a gorgeous swimming pool. He called it the Italian Villa, and it cost him $300,000. In short time the Italian Villa, intended as a bespoke paradise for Keaton and his wife, became a very expensive albatross.
There was a fundamental mismatch between Buster Keaton and MGM, and everyone knew that going in. Buster Keaton was an independent filmmaker—a conceptualist, director, and action choreographer as well as a star—and he made films with a small group of trusted technicians who had been with him for years. He had never stuck to a traditional studio production schedule; he had never even worked from a complete script. According to Keaton, his working process pre-MGM was largely improvisatory. He'd figure out the beginning of the story, and the end, and the middle of the story would fall into place during production. For each individual scene, he'd figure out the setting and the situation, have the set built and the props placed and the other actors costumed, and on the day of shooting, Keaton would go to town.
Keaton's working methods were completely unacceptable to his new studio. MGM billed itself as a kingdom within the confines of Hollywood where stars ruled, but in reality, its Culver City lot was a 40-minute drive from the Hollywood sign, and most of its stars had no power over their work, their public personas, or their physical presentation at all.
All of this said, Keaton's first film at MGM turned out well. In his first meetings with Irving Thalberg, Keaton got the message that it would be impossible to do his usual thing of riffing off what he referred to as a "germ" of a concept, and he was willing to compromise. It was suggested that Keaton do a story involving the creation of newsreels, which would create space for him to stage action while at the same time drawing attention to and using footage shot for William Randolph Hearst's newsreel company, which was parked at MGM as part of his sweetheart deal. Keaton thought this could actually be funny, so he agreed—and ended up devising a story that was more meta, concerning his status as a newcomer at MGM, than it was synergistically promotional of the studio.
In The Cameraman, Keaton would play a tintype photographer who meets a beautiful girl who happens to be the receptionist at Hearst's newsreel company. Hoping to impress the girl and also move up in the world, the cameraman trades his tintype camera for a movie camera and goes out to shoot an audition reel so that he can attempt to land a job alongside his beloved. He finds himself struggling to produce something that puts him in MGM's good graces.
This is where Keaton would have ordinarily stopped his plotting and started shooting. But at MGM, this was the point when a team of writers swooped in to flesh out the story. Keaton claimed a total of 22 writers worked on the script; Louis B. Mayer's biographer claims it was only five. In any case, all of the endless conferencing and fine-tuning of the story made Keaton nervous; he started to lose confidence in his own ideas.
Keaton somehow managed to convince Thalberg to allow him to begin shooting the film on location in New York City, far from where the studio executives could meddle. Once there, they found it was impossible to stick to the shooting script and schedule in the midst of the city's unpredictable crowds, so Keaton actually called Thalberg and got permission to put the script aside and shoot whatever he felt he needed to shoot. Then they returned to Hollywood and staged New York crowd scenes, like an action sequence set amidst a Chinatown gang fight, on the MGM lot.
In the end, The Cameraman's hybrid of Keatonian spontaneity and MGM scale worked. He even felt the film benefited from MGM's habit of extensive test screening—MGM had wanted him to end the film with a shot of his usually straight-faced character smiling, but test audiences hated it, so Keaton got his way.
The Cameraman was well-received, and it did make a small profit, but MGM was not a studio where small profits were good enough. The studio's point of view was that it had tried it Keaton's way, and even though he made a good and funny film, now it was time to try it the MGM way.
Keaton got a sense of what a low priority his own creative explorations were to his bosses when he suggested that Spite Marriage, his second film for MGM, take advantage of the by-now already emerged technology of sound. The studio told Keaton it wouldn't let him have access to its sound recording equipment, because it didn't have enough of it, and what it did have, it needed for dramas and, particularly, a spectacular musical that the studio would release in early 1929, called The Broadway Melody. The Broadway Melody would become the biggest hit of 1929 and win the Oscar for best picture. But three months after its release, Nick Schenck from the corporate office was still telling people that he believed that silent film would never fully die out because "certain stories are naturally suited for silent treatment." For now, those certain stories included comedies, which MGM initially believed were a waste of sound.
Later in 1929, MGM would cast Buster Keaton, along with most of its major stars with the exception of Garbo, in a film called The Hollywood Revue of 1929, a variety show talkie in which Keaton performed a silent comic dance number, and also appeared in a studiowide singalong of "Singin' in the Rain," shot in beautifully saturated Technicolor. But when the camera pans past gorgeous singing starlets and lands on Keaton, the so-called Great Stone Face's mouth is shut. As the singalong continues around him, Buster looks down and around in confusion, as if he's playing the role of being unsure what he's doing there.
MGM was paying Buster Keaton $3,000 a week and seemed literally afraid to let him open his mouth. But as sound fully took hold at MGM, Keaton would long for the days of silence. Listen to the episode to find out how, over the next three years, Keaton lost everything—his house, his kids, his job at MGM—and how, over the three decades after that, he got his dignity back.