The Audio Book Club on Going Clear
Our critics take on Lawrence Wright's epic investigation into Scientology and Hollywood.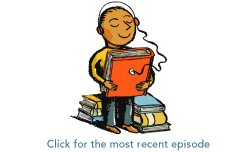 To listen to the Audio Book Club discussion of Going Clear, click the arrow on the player below.
This month, Slate Book Review editor Dan Kois, DoubleX editor Hanna Rosin, and Slate cultural critic Meghan O'Rourke discuss Lawrence Wright's Going Clear, his investigative report on Scientology, expanded from his exceptional New Yorker story about the screenwriter and director Paul Haggis. Slate's critics discuss Wright's investigative methods, the bizarre life story of L. Ron Hubbard, and how this book made them want to never watch another Tom Cruise movie as long as they live.
Next month's Audio Book Club will celebrate the 100th anniversary of Marcel Proust's In Search of Lost Time by discussing the first volume, Swann's Way. Pour yourself some tea, nibble a madeleine, and revisit Proust's masterpiece, then join us for our conversation on May 3.
Visit our Audio Book Club archive page for a complete list of the more than 60 books we've discussed over the years. Or you can listen to any of our previous club meetings through our iTunes feed.
Podcast produced by Abdul Rufus and Andy Bowers.