The Audio Book Club on Are You My Mother?
Our critics on cartoonist Alison Bechdel's follow-up to Fun Home.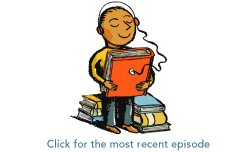 To listen to the Audio Book Club discussion of Are You My Mother?, click the arrow on the player below.
Slate Book Review editor Dan Kois, Slate editor Emily Bazelon, and Slate critic Meghan O'Rourke discuss Alison Bechdel's graphic memoir Are You My Mother?, a meditation on acceptance, psychoanalysis, and the ties that bind from the author of the best-selling Fun Home. O'Rourke found the book immensely moving, especially in its parallels to the story she recently told in her own memoir. Kois and Bazelon were less convinced that the book was as effective as its predecessor in telling a moving, complete story about a single family. While you're listening, you can also read O'Rourke's review of Are You My Mother? from the May issue of the SBR.
Next month's Audio Book Club selection is Fifty Shades of Grey, the Twilight fan fiction turned mega-best-selling book of erotica by E. L. James. So read Fifty Shades on the beach—or, more likely, reread your already well-thumbed copy—and join Kois, O'Rourke, and DoubleX editor Hanna Rosin for our discussion on June 29.
Visit our Audio Book Club archive page for a complete list of the more than 50 books we've discussed over the years. Or you can listen to any of our previous club meetings through our iTunes feed or through the player below.
Podcast produced by Chris Wade and Andy Bowers.