The Last Civil War Aeronaut
Thaddeus S.C. Lowe: The man who floated above Union battles in a balloon.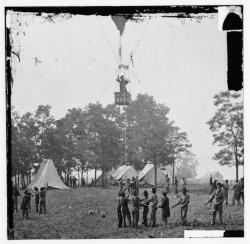 In the third episode of our monthly audio series "Civil War Stories," radio producer Nate DiMeo tells the story of Thaddeus S.C. Lowe, one of a tiny handful of people who watched (and took part in) the Civil War from a unique vantage point high overhead. Lowe was a Union army balloonist. Listen using the player below:
"Civil War Stories" is a collaboration between Slate and "The Memory Palace," DiMeo's long-running podcast that unearths forgotten historical gems. The series will appear monthly during this sesquicentennial commemoration of the Civil War. Nate DiMeo is a co-author of Pawnee: The Greatest Town in America.