Mom and Dad Are Fighting: The Two Truths and a Lie Edition
Listen to Slate's parenting podcast on foster parenting and making a mess with your children.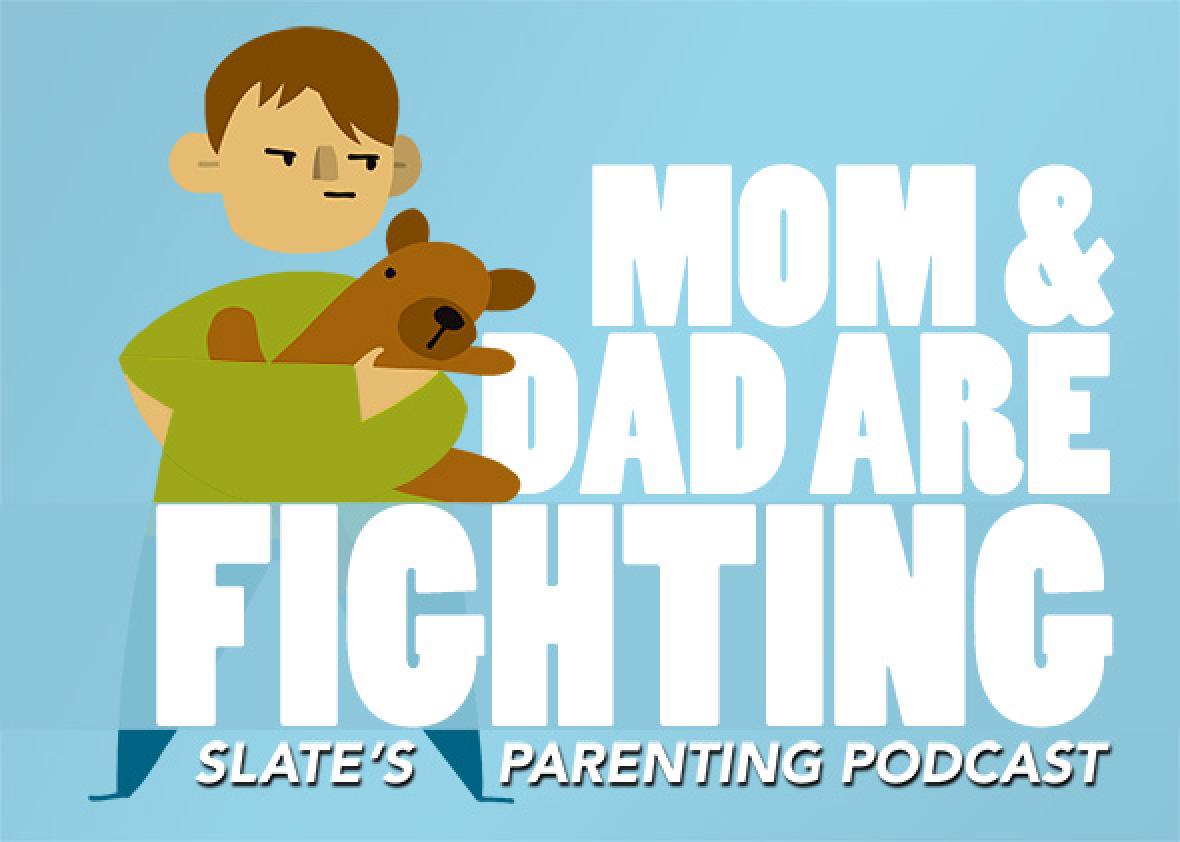 Listen to Mom and Dad Are Fighting by clicking the arrow on the audio player below:
In this week's edition of Slate's parenting podcast Mom and Dad Are Fighting, Slate editors Allison Benedikt and Dan Kois talk to Meghan Moravcik Walbert, writer of the Foster Parent Diary on the New York Times' Motherlode blog. Then, Jessica Lahey, author of The Gift of Failure, joins the show to discuss encouraging kids to help out around the house—even if they make a mess. Plus, listeners' suggestions for how to ask your kids about their day (without actually asking) and parenting triumphs and fails.
This week on Slate Plus, Slate politics editor Will Dobson shares a wife-keeping-her-maiden-name fail.
Items discussed in the show:
Also, here is an important video of the dog wedding that recently occurred inside Slate's New York office, despite Allison's children's disbelief:
Dan recommends his family's original game, Ace of Hates. Here's a deck of cards you can play it with.
This week's advertiser is Frank Einstein and the BrainTurbo, the third installment in the hilarious, best-selling children's book series filled with inventions, science experiments, and baseball-playing robots, by author Jon Scieszka and mad scientist illustrator Brian Biggs. Frank Einstein and the BrainTurbo is on sale now from Amulet Books.
Mom and Dad Are Fighting is coming to Washington, D.C.! Join us Tuesday, Oct. 20, at 7 p.m. for a live podcast recording at Woolly Mammoth Theater. We'll be joined by John Dickerson of the Political Gabfest (and CBS' Face the Nation), plus other special guests. Get your tickets here!
If you are a Slate Plus member, you will receive 30 percent off your ticket purchase. Use your Upcoming Events tool in the Slate Plus dashboard on the right side of the Slate Plus home page to receive your individualized discount code.
Follow us on Facebook, and email us at momanddad@slate.com to tell us what you thought of today's show and give us ideas for what we should cover in the next edition. Got questions that you'd like us to answer on a future episode? Call and leave us a message at 424-255-7833.
Podcast produced by Ann Heppermann. Our intern is Jessie Chasan-Taber.