Mom and Dad Are Fighting, the "Quantity Time" Edition
Listen to Slate's parenting podcast discuss quality time vs. quantity time, plus a new memoir about tracking down a childhood bully 40 years later.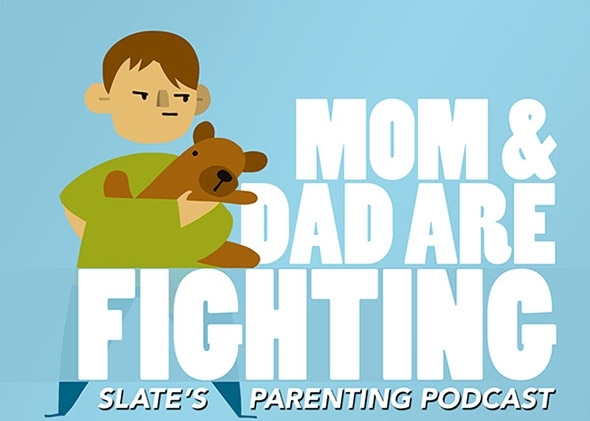 Listen to Mom and Dad Are Fighting by clicking the arrow on the audio player below:
In this week's edition of Slate's parenting podcast Mom and Dad Are Fighting, Slate editor Dan Kois and special guest host Jessica Roake talk to All Joy and No Fun author Jennifer Senior about her proposal that parents take family leave during their kids' teenage years. Then, author Allen Kurzweil calls in to discuss Whipping Boy, his memoir of tracking down his grade-school bully. Plus, listener responses to our last episode on guns in the home, a listener asks about a babysitter who keeps surprising her, triumphs and fails, and recommendations.
Items discussed in the show:
Dan recommends Seraphina, an exciting YA fantasy adventure by Rachel Hartman.
Jessica recommends Ellis Paul's delightful album of folk songs about American heroes, The Hero in You.
This week's advertisers are:
Stone Reset, by Gemvara. Turn old jewelry or a loose stone into a new design setting you'll love. Get 15 percent off the stone reset of your choosing by going to our special URL.
Bluum, the beautifully curated service for new parents to discover the best products for their child. Take 40 percent off the first month of all monthly, 3-, 6-, and 12-month plans by going to our special URL and using the promo code MOMDAD.
Macmillan children's publishing and the adorable new picture book The Whale in My Swimming Pool by Joyce Wan.
Email us at momanddad@slate.com to tell us what you thought of today's show and give us ideas for what we should cover in the next edition. Got questions that you'd like us to answer on a future episode? Call and leave us a message at 424-255-7833.
Podcast produced by Ann Hepperman.