Mom and Dad Are Fighting: The Porn Talk Edition
Listen to Slate's parenting podcast on talking to kids about porn and the pressure of the family dinner.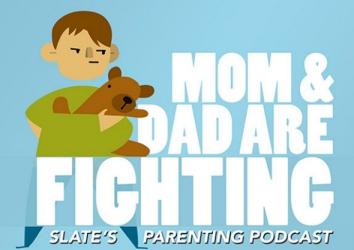 Listen to Mom and Dad Are Fighting by clicking the arrow on the audio player below:
In this week's edition of Slate's parenting podcast Mom and Dad Are Fighting, Slate editors Allison Benedikt and Dan Kois talk to Slate Supreme Court correspondent and mother of boys Dahlia Lithwick about porn—how to approach your kids about it, and what to expect to accomplish. Then, Dan and Allison debate the merits of the family dinner. Plus a listener call about kids being rude in public, and parenting triumphs and fails.
Other items discussed in the show:
Allison recommends Scarleteen, a down-to-earth, realistic sex-ed website for teenagers and a great resource for parents as well.
Dan suggests taking a baby-sitter on family vacations. If you are looking for a good one, his cousin might be available.
Email us at momanddad@slate.com to tell us what you thought of today's show and give us ideas for what we should cover in the next edition. Got questions that you'd like us to answer on a future episode? Call and leave us a message at 424-255-7833.