Mom and Dad Are Fighting: The "Should I Even Be a Parent?" Edition
Listen to Slate's parenting podcast on youth football, books with great female heroes, and ambivalence about having kids in the first place.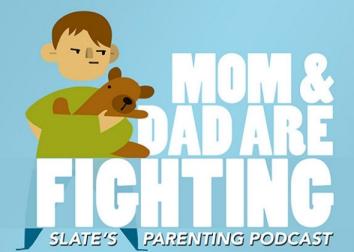 Listen to Mom and Dad Are Fighting by clicking the arrow on the audio player below:
In this week's edition of Slate's parenting podcast Mom and Dad Are Fighting, Slate editors Allison Benedikt and Dan Kois talk to Mike Pesca, host of Slate's The Gist, about why he'll let his kids play tackle football. Then, Allison and Dan debate how childless (or child-free!) people should decide whether to have kids at all. Then, Dan and Allison debate the merits of the family dinner. Plus a listener call about books featuring great female heroes, and parenting triumphs and fails.
Other items discussed on the show:
Here's the list of books with great heroines recommended by Dan and Amy Blaine, intrepid librarian at Jamestown Elementary in Arlington, Virginia:
Email us at momanddad@slate.com to tell us what you thought of today's show and give us ideas for what we should cover in the next edition. Got questions that you'd like us to answer on a future episode? Call and leave us a message at 424-255-7833.
Mom and Dad Are Fighting is produced by Ann Hepperman. The executive producer of Slate podcasts is Andy Bowers.
This episode of Mom and Dad Are Fighting is sponsored by Hulu Plus. Use our special URL and get two weeks free!