Twitter Therapy
Is it appropriate to follow my psychiatrist on social media?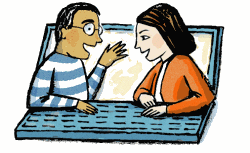 This week, Slate's tech columnist Farhad Manjoo and Dear Prudence advice columnist Emily Yoffe debate the question: Is it appropriate you and your psychiatrist to follow each other on Twitter or Facebook. How about friending a family member's shrink?
What's your opinion about this week's manners dilemma?
You can play any episode of Manners for the Digital Age using the player below:
Podcast produced by Melonyce McAfee.