Say It to My Face, Not on Facebook!
What to do when your "friends" mock your status updates.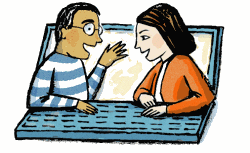 This week, Slate's tech columnist Farhad Manjoo and Dear Prudence advice columnist Emily Yoffe debate the question: Should you confront a Facebook friend who seems to be mocking your posts with her own sarcastic or combative status updates?
What's your opinion about this week's manners dilemma?
You can play any episode of Manners for the Digital Age using the player below:
Podcast produced by Melonyce McAfee.