Working My Nerves
Office etiquette on borrowing earbuds, email misspellings, and loud cellphone games.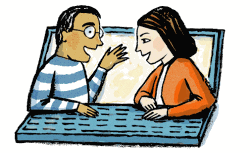 Slate's tech columnist Farhad Manjoo and "Dear Prudence" advice columnist Emily Yoffe debate the question: Should you let a colleague borrow your earbuds even though you're grossed out by the thought? Plus, our hosts tackle work-related email misspellings and loud cellphone noises.
What's your opinion about this week's manners dilemma?
You can play any episode of Manners for the Digital Age using the player below:
Podcast produced by Melonyce McAfee.