Working My Nerves
Office etiquette on borrowing earbuds, email misspellings, and loud cellphone games.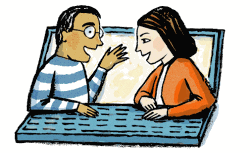 Slate's tech columnist Farhad Manjoo and "Dear Prudence" advice columnist Emily Yoffe debate the question: Should you let a colleague borrow your earbuds even though you're grossed out by the thought? Plus, our hosts tackle work-related email misspellings and loud cellphone noises.
What's your opinion about this week's manners dilemma?
Advertisement

You can play any episode of Manners for the Digital Age using the player below:
Podcast produced by Melonyce McAfee.
TODAY IN SLATE
Medical Examiner
Here's Where We Stand With Ebola
Even experienced international disaster responders are shocked at how bad it's gotten.