Amateur Wedding Paparazzi
What's the deal with guests snapping cell-phone photos at weddings and posting them online?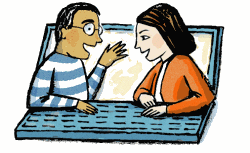 This week, Farhad Manjoo and Emily Yoffe debate the question: Is it socially acceptable to take out your cell phone and snap photos of a wedding ceremony in progress, then post the shots to Facebook before the ink on the marriage certificate is dry?
What's your opinion about this week's manners dilemma?
You can play any episode of Manners for the Digital Age using the player below:
Podcast produced by Melonyce McAfee.