You've Got It All Wrong!
Should I correct blatantly wrong info my friends post to Facebook?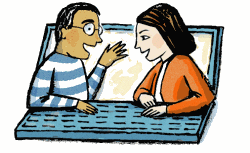 This week, Farhad Manjoo and Emily Yoffe debate the question: Should you correct the bad facts and blatant lies that friends post to their Facebook pages?
What's your opinion about this week's manners dilemma?
Advertisement

You can play any episode of Manners for the Digital Age using the player below:
Podcast produced by Melonyce McAfee.
Family
"Nobody Called CPS on Louis C.K." Writing about giving your baby the finger makes people on the Internet go a little crazy.