Résumé Robbed
What to do when a colleague steals your job title and description for her LinkedIn profile.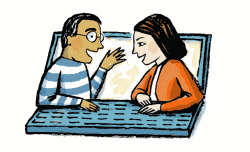 This week, Farhad Manjoo and Emily Yoffe discuss the etiquette of confronting a colleague who has padded her LinkedIn résumé with someone else's job title and duties. Listen to Episode 36 using the audio player below or by opening this player in a new tab.

What's your opinion about this week's manners dilemma?

You can play any episode of Manners for the Digital Age using the player below:
Podcast produced by Melonyce McAfee.