Is Everyone Hanging Out Without Me?
What to do when Facebook reveals your friends didn't invite you to an event.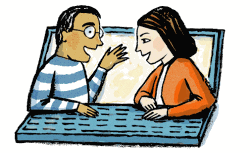 This week, Farhad Manjoo and Emily Yoffe debate the question: When you're hanging out with pals, but other friends aren't invited, is it rude to post the details to Facebook?
What's your opinion about this week's manners dilemma?
You can play any episode of Manners for the Digital Age using the player below:
Podcast produced by Melonyce McAfee.