Hands Off the DVR!
What to do when the baby-sitter uses your TiVo without asking.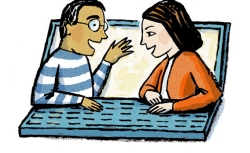 This week, Farhad Manjoo and Emily Yoffe debate the question: Is it rude for the baby-sitter to save TV shows on your digital video recorder without asking first?
What's your opinion about this week's m anners dilemma?
You can play any episode of Manners for the Digital Age using the player below:
Podcast produced by Melonyce McAfee.