Offline Lover
Help! My fiancée demands that I show her more attention online.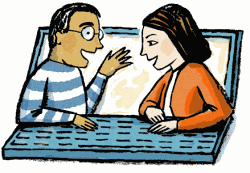 This week, Farhad Manjoo and Emily Yoffe debate the question: Are couples obligated to interact via social media, or is face-to-face contact more than enough? In this week's podcast, the letter writer's fiancée is dissatisfied with the level of attention he shows her online.
What's your opinion about this week's manners dilemma?
You can play any episode of Manners for the Digital Age using the player below:
Podcast produced by Melonyce McAfee.