Whoa, Google! TMI!
Farhad Manjoo and Emily Yoffe debate the question: Should you reveal that you learned something very personal about friends after Googling them?
Posted Tuesday, Nov. 1, 2011, at 1:10 PM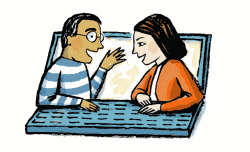 This week, Farhad Manjoo and Emily Yoffe discuss the etiquette of feigning ignorance after the Internet reveals intimate details about a friend. Listen to Episode No. 27 using the audio player below.

What's your opinion about this week's manners dilemma?

You'll find previous episode pages here:
MYSLATE