Don't Post Pictures of My Kid on the Internet, Part 2
Farhad Manjoo and Emily Yoffe follow up a past episode with a discussion about photography, the Internet and the law.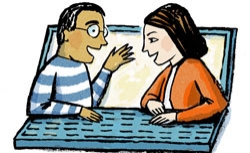 This week, Farhad Manjoo and Emily Yoffe revisit the etiquette, and legality, of posting photographs of other people online. They decided to take a second look at the topic after listeners had strong reactions to Episode 26. Listen to Episode 30 using the audio player below or by opening this player in a new tab:

What's your opinion about this week's manners dilemma?
You can play any episode of Manners for the Digital Age using the player below:
You'll find previous episodes here:
Podcast produced by Mike Vuolo.