The Virtual Baby Shower
Farhad Manjoo and Emily Yoffe debate the question: Is it tacky to send links to a gift registry to the expectant mother's far-flung friends and call it a shower?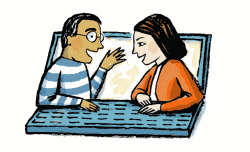 This week, Farhad Manjoo and Emily Yoffe discuss the etiquette of throwing a "virtual baby shower," in which guests gather online while the mom-to-be opens her gifts. Listen to Episode 28 using the audio player below.

What's your opinion about this week's manners dilemma?
You can play any episode of Manners for the Digital Age using the player below:
You'll find previous episodes here: