Texting on Takeoff
Farhad Manjoo and Emily Yoffe debate whether it's OK to tattle on a fellow airplane passenger who's flouting the rules.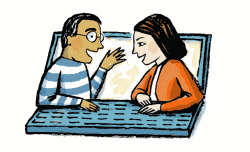 This week, Farhad Manjoo and Emily Yoffe discuss the etiquette of informing on a passenger who ignores the in-flight announcement to kindly turn off all electronics. Listen to Episode 25 using the audio player below or by opening this player in a new tab.
What's your opinion about this week's manners dilemma?